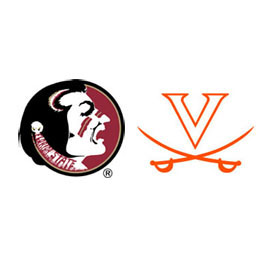 AFP editor Chris Graham leads our live coverage as #2 Virginia (22-1, 11-0 ACC) faces Florida State (17-6, 6-5 ACC). Tipoff is scheduled for 7 p.m.
Broadcast Information
The Virginia-Florida State contest will be televised on the Regional Sports Network and streamed online on ACC Network Extra (ESPN3.com) and ESPN App, and broadcast on the Virginia Sports Radio Network, VirginiaSports.com and Virginia Athletics mobile app on iTunes or Android.
Keys to the Game: Virginia
Stay out of foul trouble, while also pressuring FSU: Florida State leads the ACC in conference play in free throw attempts, averaging just shy of 25 charity tosses per game. The 'Noles are just 10th in free-throw shooting (71.5 percent), but they get opponents into foul trouble. Flip side: FSU also leads the ACC in conference games in personal fouls, meaning UVA will get its chances to score points at the stripe as well.
Protect the paint: Virginia did an excellent job defending Syracuse's dribble-drives in the 59-44 win in the Carrier Dome on Saturday. The strategy was to have the bigs linger after hedging on pick-and-rolls to clog the lane, basically daring the Orange to pass it to their big men, knowing they wouldn't, and it worked. FSU's bigs are as offensively challenged as their counterparts in upstate New York, so that approach could work again against Florida State's talented perimeters.
Road warriors: Virginia is 5-0 on the road in the ACC. You can expect that the 'Hoos will get Florida State's best shot, with NCAA Tournament resumes in focus with the calendar flip to February. The homecourt advantage for FSU isn't as pronounced as it is elsewhere in the ACC, but the relative lack of enthusiasm in the Leon County Civic Center can be just as tough at times. UVA might need to generate its own excitement and energy.