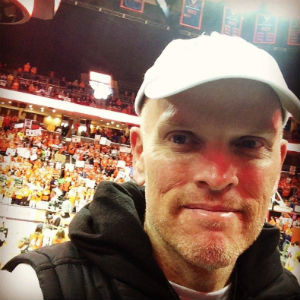 The last time Virginia basketball was ranked #1 in the nation, in 1982, I was 10 years old, and being 10 years old, and only cognizant of the outside world for, what, maybe two years, I just assumed that this was how the world worked, that Virginia basketball was always going to be #1.
I'd already long since decided that I was going to go to school at UVA, which had nothing to do with basketball, at least at first. My sister was born with medical issues that had her a regular visitor to the UVA Children's Hospital, and my mom would tell me later that I started telling people in kindergarten that I was going to go to school at UVA and be a doctor when I grew up.
By the time Ralph Sampson matriculated on Grounds, my life goals had shifted. I was going to play basketball for Terry Holland, and for whatever reason, when I was shooting on my backyard hoop, I always imagined myself a 6'8" power forward, after deciding that my favorite player wasn't Ralph, but actually Craig Robinson, Ralph's interior sidekick.
My gene pool being what it was, my destiny topped out at 6'1", and the best I could do was playing pickup basketball at the Slaughter Rec Center and Mem Gym as an undergrad, but I was enough of a doofus to play my way into the high-stakes pickup games with basketball players in their offseason, running games with Bryant Stith, Junior Burrough, Cornell Parker, Dawn Staley, Dena Evans.
Fast forward a few years, to 2006, and a good friend of mine, Patrick Hite, and I worked for several months working on a book on the history of University Hall, Mad About U: Four Decades of Basketball at University Hall, as the transition was being made from that venue to the then-new John Paul Jones Arena.
As we worked on that book, I remember noticing how my thinking on Virginia basketball had evolved from the 10-year-old me. That kid who thought UVA would always be #1 had grown into a mid-30s cynic who assumed it would never come close to happening again, at the tail end of, at that time, a nine-year stretch that featured exactly one NCAA Tournament game and five seasons of .500 or worse finishes.
And it wasn't even as dark as it was going to get yet. After a split ACC regular-season title in 2007, we were subjected to something called the CBI in 2008, and then a home loss to Liberty the next fall that portended the beginning of the end of the brief era of Dave Leitao, the third coach to fail to build on the success that Holland had established.
The next man up was Tony Bennett, a 39-year-old who was then best-known by UVA fans as the coach they hadn't heard of that got the job for some reason instead of Tubby Smith. By Bennett's third season, in 2011-2012, he had Virginia back in the NCAA Tournament, and his fifth team went on a long ACC winning streak, won the ACC regular season and ACC Tournament and got the 'Hoos to the Sweet Sixteen for the first time since 1995.
The 2014-2015 team spent seven weeks ranked #2 in the national polls, but that was the year that Kentucky was unbeaten into the Final Four. The 2015-2016 team was eight minutes away from a Final Four before that team from upstate New York that we almost hate as much as we hate Michigan State stole that from us.
It's a sign of the times, and heightened expectations, that last year's team, which finished 23-11, was looked at as having underachieved, a factor in why the 2017-2018 team entered the season with barely anything in the way of expectations, to the point of not even being ranked in the preseason polls.
Started from the bottom, now we're here. Number one. It's not an end, sure. You want to be #1 after a Monday night in April, and there's a lot of basketball to be played between now and then, five more regular-season games, nine in the postseason, if things go the way we all hope.
Being ranked #1 in the regular season is still something important. For Bennett, for instance, who recruits players who stay for four or five years, not the NBA-ready teens who are ready to take their talents to the Association after a year or two, it's a validation of his approach.
For the players, who don't get the recognition they might otherwise because they don't play a style that leads to a lot of SportsCenter highlights, it's a begrudging admission from writers who not long ago filled columns with musings about how Virginia is bad for basketball because of its style of play that there is value in this me-first era to being a part of a team that is worth more than the sum of its parts.
And for us fans, alums, long-suffering as we've been,  it's a time for celebration. No, we didn't hedge on a pick-and-roll, double in the post, slide over to cut off a driving lane, set a screen, run a curl or flare, but we've still got plenty of sweat equity in getting to this day.
Thirty-five years worth, actually, give or take.
Since seeing the tweet in my timeline about the #1 ranking, I've had a chance to reconnect, with the 10-year-old me, who had to plead with my mom to be able to stay up past my bedtime to watch 9 p.m. mid-week tips, who missed school on a particular Friday in March with ACC Tournament-fluenza, who thought it could never get better than this.
I'm not ashamed to admit to having been a bit teary-eyed for the past couple of hours, silly as it is to get all emotional over these kinds of things.
The weeping, fortunately, is tears of joy. Joy, as Tony himself once said, quoting Psalm 30:5, in the wake of the Elite Eight loss to Syracuse two years ago, that was to come in the morning.
Ahem. Now back to breaking down matchup zones, rotations, tempo, offensive rebounding rates and the rest.
Ah, hell, the 10-year-old wants to finish this one this time.
We're #1! We're #1! We're #1! We're #1!
Story by Chris Graham