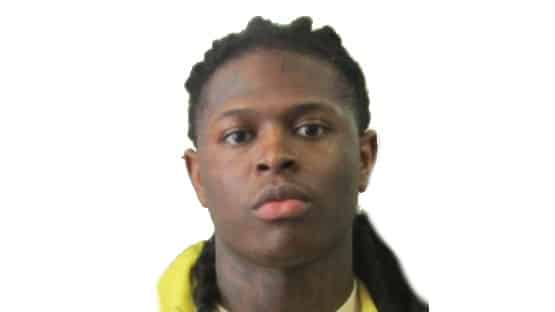 The inmate who escaped guards while being treated at a Henrico County hospital broke into a nearby residence, and stole money and a credit card from the home, as authorities dawdled on telling anybody what had happened.
Naseem Roulack, 21, who is still on the lam at this writing nine days later, escaped from the supervision of two VADOC security officers at Bon Secours St. Mary's Hospital, which is located near the Henrico County-Richmond boundary line, at approximately 5:50 a.m. Saturday.
The hospital, for some reason, wasn't placed on lockdown until 7 a.m., and by that time, Roulack, an inmate at the Greensville Correctional Center down I-95 in Jarratt, was already a mile away, breaking into the residence of a 70-year-old Richmond man who told CBS 6 in Richmond that he's "just lucky that I wasn't hurt."
"He took the keys to my Buick, $111 cash, a credit card, and a driver's license," the man told CBS 6 reporter Melissa Hipolit.
The man, who is not being identified, said he found a hospital gown on the living-room floor of his home, and was told by investigating officers that it belonged to Roulack.
Local police – in Richmond and Henrico County – are facing criticism for not alerting the surrounding community about the escape.
Henrico County sent out a reverse 911 alert at 8:37 a.m., nearly three hours after Roulack was last seen by authorities.
Richmond Police never sent any notifications out to area residents about the escape.
A Richmond PD spokesperson said the decision to not alert residents was made because of the "wide dispersal of information to the public by the lead agencies."
That "wide dispersal of information to the public" didn't come until Roulack had already broken into the nearby home and made off with money and credit cards that obviously aided his escape.
The latest on Roulack
Roulack, a Black male, stands at 5'8 inches tall, weighs 225 pounds, has brown eyes, and he has four identified tattoos – one on his chest that reads "Marie," one on his left arm that reads "RIP Ish", one on his right cheek that reads "Cut Throat" and one on his right arm that reads "Faith Is Seeing Light With Your Heart When All Your Eyes See Is Darkness."
Roulack is serving a 13-year sentence for aggravated malicious wounding, grand larceny, and hit-and-run.
The U.S. Marshals Service is now offering a cash reward of $5,000 for information that leads to the apprehension of Roulack.
The U.S. Marshals Service can be contacted at 1-877-WANTED2, or tips can be submitted via the USMS Tips app.
You can also call VADOC's fugitive line at 1-877-896-5764 and Virginia State Police by dialing #77 or 911.