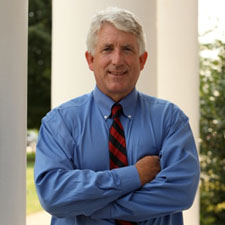 Attorney General Mark R. Herring today announced a partnership with the Virginia Department of Veterans Services (DVS) and the Virginia State Bar (VSB) to launch a series of pro bono Veterans Legal Services Clinics to provide estate planning services to low-income veterans throughout the Commonwealth.
In March 2016, volunteer attorneys from the Office of the Attorney General and the VSB will serve low-income veterans by drafting wills, powers of attorney and advance medical directives in Hampton Roads on March 1, Richmond onMarch 2, Roanoke on March 3, and Northern Virginia on March 4, with more clinics anticipated in the future. Attorney General Herring, DVS, and VSB representatives announced the project today during an event in Norfolk at the MacArthur Memorial, and will discuss the initiative during a 1 p.m. event in Richmond at the Virginia War Memorial.
"Wills, powers of attorney, and advance medical directives can provide veterans, their partners, and families with peace of mind and planning for the future, and we're proud to serve these Virginians who have fought for this great nation and the American people," said Attorney General Herring. "Veterans are true heroes who, without question, put their lives at risk to protect the freedoms we enjoy as Virginians and Americans. The very least we can do to honor their service to our country is volunteer our time to provide these critical legal services. I'd like to thank the Virginia Department of Veteran Services and the Virginia State Bar for serving as partners in this important effort."
Attorney General Herring's clinics will provide qualified veterans and their spouses with simple wills, powers of attorneys, and advance medical directives, including notary services, during the one hour time slots which will be filled on a "first-come, first-served basis." In order to be eligible for services,veterans and their spouses must fill out an intake questionnaire on Attorney General Herring's website or at their local Virginia Department of Veterans Services Benefits Center. The first series of pro bono legal services clinics in March hopes to serve more than 100 veterans across the Commonwealth.
HAMPTON ROADS: Tuesday, March 1, 2016 at – Tidewater Community College – 1428 Cedar Road, Chesapeake, VA 23322
RICHMOND: Wednesday, March 2, 2016 at – J. Sargeant Reynolds Community College – Parham Road Campus, 1651 E Parham Road, Richmond, VA 23228
ROANOKE: Thursday, March 3, 2016 at – Virginia Western Community College – 3094 Colonial Avenue, Roanoke, Virginia 24015
NORTHERN VIRGINIA: Friday, March 4, 2016 at – Northern Virginia Community College – 8333 Little River Turnpike, Annandale, VA 22003
With more than 750,000 veterans and their families, the Pentagon, and the largest Naval base in the world, Virginia is home to many military members and veterans with unique financial and consumer needs. A Harris Interactive survey found that more than half of Americans do not have wills and estate planning documents like the items offered through the clinic, and with some estimates putting the cost of these documents and services between $500-$1,500, some veterans might be unable to afford these documents.
"I am very pleased that Attorney General Herring and his team have taken this on, and the Department of Veterans Services is very proud to partner with him and the Virginia State Bar on this important project," said Secretary John C. Harvey, Jr., Virginia Secretary of Veterans and Defense Affairs. "This unique partnership will result in the combination of much needed resources to assist Veterans and their current spouses who otherwise do not have access to readily available attorney representation for estate planning."
"The Military Law Section of the State Bar of Virginia is proud to support and participate, through the Veterans Legal Services Clinics, in giving back in some small measure to those who have given so much; those who have so courageously, and often repeatedly, placed themselves directly in harm's way in the defense of this great nation and its people," said Donna Price, Chair of the Virginia State Bar Military Law Section.
Additional details including qualifications and sign up links can be found here:ag.virginia.gov/index.php/veteranslegalservices
Attorney General Herring currently employs 26 veterans, guardsmen and guardswomen, and former servicemembers and has made a commitment to hiring more. Attorney General Herring recently earned employer certification through the Virginia Values Veterans (V3) program, an initiative to encourage Virginia employers to implement nationally recognized best practices in recruiting, hiring, and retaining highly-skilled and dependable veterans. Attorney General Herring is also utilizing his consumer protection section and its enforcement authority to help meet the unique needs of veterans, active duty personnel, and their families. Because servicemembers are often away from home for long periods of time while on deployment, and because they have a steady, albeit modest, income, active duty servicemembers and their families are attractive targets for predatory lending, identity theft, illegal foreclosure or repossession, and credit card fraud.
More information on consumer protection, healthcare, and legal resources for veterans is available on Attorney General Herring's website.