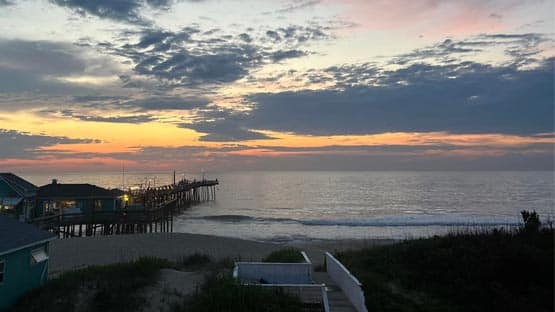 If you are headed to the Outer Banks for Memorial Day weekend or in the next month or two, expect major delays on the Chesapeake Expressway due to a damaged bridge.
Any one traveling to the OBX from Virginia generally takes the Rt. 168 toll road to expedite travel to the North Carolina beaches of Duck, Corolla, Kitty Hawk, Kill Devil Hills, Nags Head and others.
There are alternate routes that avoid the toll road. However, due to the damaged bridge, congestion is also possible on these routes.
On May 12, the U.S. Coast Guard says a barge struck the underside of the Rt. 168 bypass bridge on the expressway and damaged one of the bridge girders.
Repair work is already under way with traffic reduced to one lane to give the contractor room to work. Also, the city reports that open lanes are "narrow and offset" so drivers are asked to use caution in the area.
"Please continue to use caution through the work zone and to have patience when dealing with delays in the area," read an update from the City of Chesapeake.
The U.S. Coast Guard has granted the City of Chesapeake's request for limited bridge openings at the Great Bridge and the Centerville Turnpike Bridge.
"Out of an abundance of caution while these determinations and plans are being prepared, we have closed the outside lane of the southbound span to traffic until our analysis and work plans are complete," according to FAQs from the City of Chesapeake.
The city does not appear to have a timeline for repairs but city officials told 13News Now that the crews will fix the damaged girder through a process called heat straightening. The repairs are estimated to cost $750,000, and once work begins, should take about 30 days to complete.
While the repairs are taking place, there may be vehicle weight restrictions on the bridge.
To stay up to date on lane closures and openings on the Rt. 168 Bypass Bridge, text 168BRIDGE to 888777 to receive updates.
Related story
If you are headed to N.C., S.C. coasts for vacation, be on the lookout for hurricanes