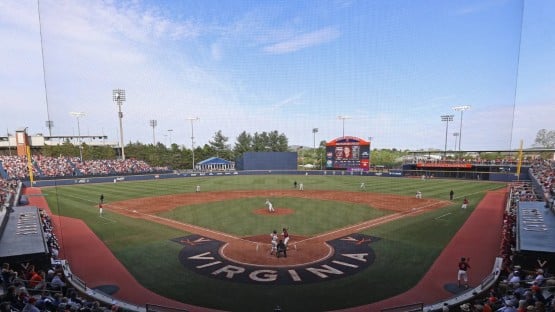 Virginia is the #7 national seed, and the top seed in the Charlottesville Regional, which will get under way on Friday at noon with the Cavaliers hosting #4 seed Army.
Hosting an NCAA Tournament regional is a familiar position for Virginia fans, but not so much for the current players. The hosting gig is the first for UVA since 2016, which at that time marked the seventh straight year that a Virginia team had hosted at least one weekend of NCAA Tournament play, counting the surprise Super Regional in 2015, on the way to the program's first and to date only national title.
The other three teams in this weekend's regional are familiar June foes. Army has been a part of two UVA regionals (2012, 2013), with the people in charge of travel itineraries at East Carolina (2011, 2016) and Oklahoma (2010 Super Regional, 2012 regional) also knowing their way to Central Virginia decently well.
Let's get to know the other three teams that will be playing playoff baseball at The Dish this weekend.
#2 East Carolina (45-17, RPI: 26)
ECU played a rugged schedule this season (the non-conference strength of schedule ranked 12th nationally; the Pirates were 23-9 in those games).
The workhorses in the rotation have been Trey Yesavage (6-1, 2.80 ERA, 0.99 WHIP, 98 Ks in 70.2 IP), Josh Grosz (4-2, 3.65 ERA, 1.27 WHIP) and Carter Spivey (7-3, 4.40 ERA, 1.36 WHIP).
We'll be hoping to see the #2 guy from this group on Saturday night (either ECU's or OU's, that is).
The Pirates have slashed .292/.392/.465 and averaged 7.42 runs per game this season.
The big bopper is Josh Moylan (.302 BA, 1.021 OPS, 15 HR, 66 RBI), with Luke Nowak (.291 BA, .773 OPS, 19 SB) and Jacob Starling (.314 BA, .958 OPS, 10 HR, 50 RBI, 18 SB) and Alec Makarewicz (.264 BA, .847 OPS, 11 HR, 48 RBI) adding speed and firepower.
#3 Oklahoma (31-26, RPI: 40)
OU had to fight its way out of the deep Big 12, finishing with an 11-13 league mark and a 1-2 finish in the conference tournament.
The pitching staff got knocked around a bit this season, pitching to a 5.90 staff ERA and a 1.59 staff WHIP.
The top starter is Braden Carmichael (7-0, 3.15 ERA, 1.28 WHIP).
The odd pitching statline belongs to Aaron Weber, who leads the staff with seven saves, but has a ghastly 9.50 ERA and 1.89 WHIP, and only pitched 18 innings in 19 appearances this season.
The Sooners like to run, piling up 109 stolen bases on the season, with four guys totaling 15 or more – led by John Spikerman (.265 BA, 785 OPS, 3 HR, 33 RBI, 24 SB), Anthony Mackenzie (.304 BA, .848 OPS, 6 HR, 39 RBI, 21 SB), Kendall Pettis (.323 BA, .860 OPS, 1 HR, 21 RBI, 16 SB) and Bryce Madron (.308 BA, 1.024 OPS, 11 HR, 45 RBI, 15 SB).
#4 Army (38-16, RPI: 92)
The Black Knights won the Patriot League with a 21-4 regular-season record, then had to battle their way back through the league's postseason tournament after losing their opening game to a Lafayette team that finished with a 15-37 record.
The starting rotation has three guys with sub-3.00 ERAs – Robbie Buecker (5-3, 2.84 ERA, 1.26 WHIP), Mike Ruggieri (9-1, 2.86 ERA, 1.33 WHIP) and Tanner Gresham (5-1, 2.90 ERA, 1.05 WHIP).
The back end of the bullpen has two power arms – Sean Dennehy (3-0, five saves, 2.84 ERA, 1.30 WHIP, 37 Ks in 25.1 IP) and Patrick Melamphy (1-2, 3.18 ERA, 1.02 WHIP, 38 Ks in 28.1 IP).
The Army lineup has slashed .304/.393/.498 and averaged 8.02 runs per game.
Four hitters are in double-digits in homers – Ross Friedrick (.372 BA, 1.113 OPS, 17 HR, 58 RBI), Braden Golinski (.329 BA, 1.015 OPS, 13 HR, 52 RBI), Derek Berg (.317 BA, .967 OPS, 12 HR, 44 RBI) and Sam Ruta (.300 BA, .983 OPS, 13 HR, 58 RBI).
The table-setter is Kevin Dubrule (.411 BA, 1.090 OPS, 9 HR, 68 RBI).