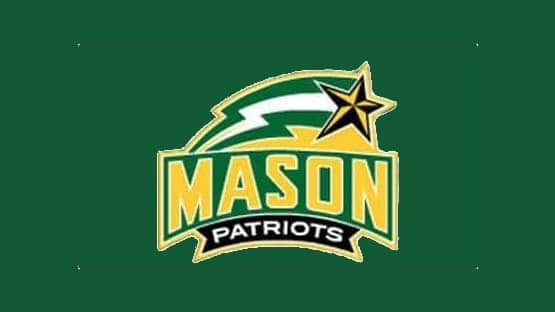 George Mason pulled out a crucial 64-58 overtime win over Fordham Wednesday night inside EagleBank Arena.
The Patriots (18-12, 10-7 A-10) led 48-40 with 4:14 to play, but Fordham (23-7, 11-6 A-10) used an 8-0 run to tie the score at 48-48 with 1:33 left. Despite losing Davonte Gaines and Josh Oduro after both players fouled out, the Patriots got two late stops against the Rams in regulation to send the game to overtime.
From there, the Patriots willed themselves to win, putting together one defensive stand after another in overtime. Ronald Polite III scoring eight of his 12 points in the extra session to propel the Green & Gold to their fifth-straight win.
The victory on Mason's Senior Night keeps the Patriots in a tie for fifth place in the A-10 standings with one regular season game remaining.
"That was a hard-fought Atlantic 10 game against a very good ballclub that's 100% bought in to who they are and their identity – but so are we," Mason coach Kim English said. "We can play any style against anyone. They present some challenges and play a defense that's hard to mimic. But our guys did a great job of finding a way to win. No matter what the conditions are, that's how we like it."
The Patriots rode their defense to success Wednesday. Mason limited Fordham to a meager 3-of-29 shooting effort in the first half and held the Rams without a field goal for more than 17 minutes en route to a 23-16 halftime lead.
Fordham shot just 23.8 percent (15-of-63) for the game, marking the lowest field goal percentage for a Mason foe since the Patriots held Wright State to 23.1 percent on Nov. 28, 2015.
George Mason shot 34 percent for the game, but made 3-of-5 field goal attempts and 10 of their 13 free throws (.769) in the overtime session. Mason held advantages in rebounding (48-43), points in the paint (28-24) and bench scoring (15-9).
Oduro led the Patriots with 17 points, six rebounds and a season-best four blocks in 35 minutes. Polite III added 12 points a game-high seven assists, seven rebounds and two steals, while graduate student Saquan Singleton added a season-best 11 points (3-6 FG) and seven rebounds in 29 minutes.
Khalid Moore led the Rams with 21 points and seven rebounds.