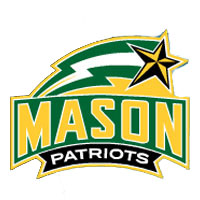 George Mason erased a 19-point deficit and gained control of the game, but fell in overtime to Saint Louis, 79-77. Five Patriots scored in double-figures with Jalen Jenkins and Shevon Thompson both notching double-doubles.
GAME NOTES
-Jermaine Bishop hit a jumper with 4.8 seconds left in overtime that proved to be the game-winner for Saint Louis. Mason's Otis Livingston II's last second layup to tie the game was blocked as the Billikens snapped a three-game losing streak to the Patriots.
-Mason trailed by as many as 19 points in the contest and came alive in the second half, outscoring the Billikens 45-33 and took its first lead when Livingston completed a three-point play at 3:16 for a 67-66 advantage. Livingston's old-fashioned three-point play capped a 19-4 Mason run that erased a 14-point deficit for the Patriots.
-Thompson opened the second half scoring Mason's first six points and finished the half with 10 points. Marko Gujanicic hit Mason's first three-pointer at the 14:08 mark to setup a 47-37 contest.
-Jenkins scored Mason's final four points in regulation first returning the lead to the Patriots with a jumper at1:33 and tied the game at 72-72 with a bucket with 44 seconds left on the clock. SLU looked for the game-winner, but Marcus Bartley's jumper was off the mark with 13 seconds to play. Jenkins sought his second consecutive game-winner with a jumper from the right side with one second on the clock, but it fell short as the teams went to overtime.
-Murrell scored all five of Mason's points in the overtime period and hit the Patriots' lone field goal with a triple that knotted the game at 77-77 with 32 seconds on the clock. Bishop drained the jumper with 4.8 seconds that sealed the win for SLU.
-SLU held a 12-point lead at the halftime break and held its largest lead of 19 points twice in the first half. Mason shot just 23.5 percent (8-34) in the first half and was 0-for-12 from three-point range, while SLU shot 54.8 percent (17-31). Jenkins posted nine points and seven rebounds in the first half.
STAT BREAKDOWN
-Mason finished the game shooting 34.8 percent (24-69) to Saint Louis' 49.3 percent (33-67). The Billikens were 9-of-20 from three-point range for 45.0 percent compared to Mason's 6-of-26 effort (23.1 percent).
-Jenkins led Mason with 18 points and 11 rebounds as the Patriots won the rebounding battle 49-36. Thompson followed with 14 rebounds and 10 points.
-In his second career start, Murrell finished with a career-high 13 points and hit a career-best three three-pointers. Livingston added 11 points, while Gujanicic chipped in 10 points. Mason finished 23-of-31 from the free throw line to SLU's 4-of-9 effort.
-Bishop led the Billikens with 20 points on 10-of-18 shooting. He was followed by Ash Yacoubou with 15 points.
NEXT ON THE COURT
-Mason wrapped up this two-game road swing and hits the road for a Sunday contest at UMass. Tip in Amherst is slated for 4 p.m. and will be televised on NBCSN.