The george mason men's basketball team took its first lead of the game with less than three minutes to play and never relinquished the advantage to top Saint Mary's 65-63 on Christmas Day. The Patriots finished seventh in the Hawaiian Airlines Diamond Head Classic with the victory in the Stan Sheriff Center.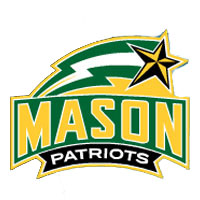 With the win, Mason moved to 6-6 on the season and snapped a four-game skid. Saint Mary's finished the tournament 0-3 to move to 9-3 on the year.
Trailing by five with 6:07 left to play, Patrick Holloway drained a trey to cut the score to 52-50 with 5:58 on the clock. The Patriots took their first lead at 2:42 on a Bryon Allen jumper as Holloway hit another triple to hand Mason a 60-56 advantage with 1:46 left in the ballgame. Mason's largest lead of the contest was five points as the Gaels kept it tight, coming within one point twice. Allen hit a pair of free throws with six seconds left to setup a 65-62 contest as Stephen Holt hit the front end from the charity stripe for the final 65-63 score.
For the game, Allen and Holloway led the Patriots offensively, each scoring 15 points, while Johnny Williams added 14 points to the scoreboard. Mason shot a 47.7 percent clip from the field and finished with 32 points in the paint, while converting 13 Saint Mary's turnovers into 15 points, including 11 points in the second half off six turnovers. Jalen Jenkins led Mason on the glass with five rebounds as the Gaels narrowly won the rebounding battle, 27-26. Three Gaels scored in double-figures led by Holt and James Walker III, each with 14 points.
Shaking off a slow start, the Patriots chipped away at a double-digit deficit and sliced the score to 22-18 following a triple from Holloway and jumper from Williams with 6:17 left in the first half. A four-point play from Walker put the Gaels back up by nine, 29-20, but Mason closed the period with a 6-2 run to trim the score to 31-26 at the halftime break.
Mason returns to home for the first time since December 4 to welcome Penn to the Patriot Center on January 2. Tip is slated for 7:30 p.m. and the game will be televised on NBCSN.