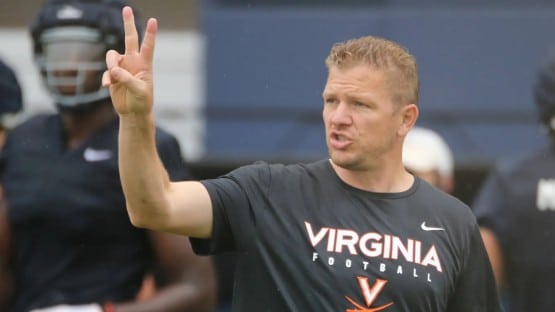 If things had worked out the way they should have, Jason Beck would be in Year 2 as the offensive coordinator at Virginia, where he had been the QBs coach for six years on the staff of Bronco Mendenhall.
Instead, Beck is in Year 1 as the offensive coordinator at Syracuse, replacing Robert Anae, his boss as the OC at Virginia, who moved on from Syracuse in the offseason to take on the offensive coordinator job at NC State, where he is reuniting with old friend Brennan Armstrong, a former Beck pupil.
Beck will be running Anae's Air Raid, which put up huge numbers at Virginia – 515.9 yards per game in his final season in Charlottesville, 2021 – not so much at Syracuse in 2022.
The Orange averaged 374.4 yards per game in 2022, basically unchanged from what 'Cuse had put up a year before, as Syracuse, after a 6-0 start, limped home to a 7-6 finish with losses in six of their final seven games.
Beck, who was the QBs coach under Anae at Syracuse last season, has a prototypical Air Raid quarterback to work with in two-year starter Garrett Shrader, whose passing numbers showed dramatic improvement in his first year in the new system.
Shrader passed for 2,640 yards, completed 64.7 percent of his passes – up from the 52.6 percent completion rate from his first season at Syracuse in 2021 – and his QB rating was a solid 147.9, up significantly from the 113.7 rating he had in 2021.
For Shrader, who transferred to Syracuse after two seasons at Mississippi State, the 2022 season will be the first in which he gets to run the same offense that he had the year prior.
"This is my fifth OC in five years, and so there's not been a lot of consistency. Three head coaches. But I'm grateful for where I'm at and the guys that I have around me," Shrader told reporters at the 2023 ACC Football Kickoff on Tuesday. "I have learned that that's what matters the most. We have a great head coach and offensive coordinator in Coach Beck. He is a great guy and just a leader. You can see it in his family.
"It's been awesome, and I'm excited for what we're going to do this year," Shrader said. "Especially because we are running the same offense. First time running a similar offense. Different OC. Coach Beck does a lot of exciting stuff. We have a lot of different little minor details where we can get guys in different positions, so we have the best chance for success."
Shrader, like Armstrong and another Air Raid QB who had success at Virginia, Bryce Perkins, can move the chains with his feet in addition to his arm.
As a junior in 2021, Shrader ran for 781 yards and 14 TDs, and in 2022, he ran for 444 yards and nine TDs.
He might be asked to do a little more in the ground game with lead tailback Sean Tucker (1,060 yards, 11 TDs in 2022) having moved on to the NFL.
Shrader, for his part, feels that the running back room has the depth to pick up the slack, and he's going into his COVID senior season with his expectations for the Syracuse offense.
"I feel like we have a clearcut identity this year and where we're going to be," Shrader said. "It's the same offense, but it will look a little bit different, and I think we'll be a lot more explosive. I know we'll be a lot more explosive. Score a lot more points, a lot more explosive plays.
"I'm excited to see what we're going to do. We have all the pieces, and now we just have to put it together," Shrader said.
A key to that will be the steady hand of Beck, who a lot of us wanted to be the guy to get the OC job at Virginia with the coaching change, but was never able to get an interview with Tony Elliott, whose choice at offensive coordinator, Des Kitchings, oversaw a unit that saw the productivity drop from the 515.9 yards per game in 2021 to, gulp, 344.1 yards per game in 2022.
This will be Beck's first opportunity at leading an offense since his one-year stint at Simon Fraser, a D2 school, in 2012, which he left to join Mendenhall's staff at BYU as the QBs coach in 2013.
Shrader and Syracuse head coach Dino Babers both credit Beck's easygoing personality as being the thing that stands out the most about him as a coach.
"He has a different approach toward the game, and just the Air Raid the way that he has learned and the way he sees the game of football, it's been relieving because he is not a very strict and authoritarian, I guess would be the right word. He wants you to go out and play loose and play fun and just go out and make plays," Shrader said.
"Just the way his approach to the game and the mindset that he has given me and the way that I've been able to play, it's been awesome to see and just the development that I've had just in the last year and then what we're going to be able to do this year," Shrader said.
"His personality is one of those personalities that's easy to get along with. The players are really motivated, and he really activates and can stimulate his personnel extremely well," said Babers, who has to be on the hot seat going into the 2023 season, with his teams at Syracuse posting a cumulative 36-49 record in his seven seasons at the school, with just two winning seasons among those seven.