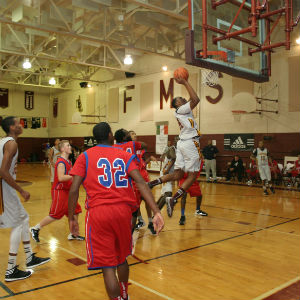 Garrett Collins was sublime, sinking 11 three-pointers, and Fishburne Military School's postgrad basketball team lit up the Bluefield College JV team, 115-66, Friday night.
Collins (6'5",Asheville, N.C.) scored 38 points all told to lead three Caissons in double figures.
"My teammates did a great job of finding me when I was open. I can't take all the credit for it. They found me. I just knocked the shots down," Collins said.
Coach Ed Huckaby has had some impressive offensive teams in his year at FMS, but this one might be the most gifted. Buoyed by Collins' effort from downtown, Fishburne hit 20 threes for the night, with Ryan Andino (6'0, 165, Fort Lauderdale, Fla.) adding five en route to scoring 16 points, and local product Boo Agee (5'11", 160, Waynesboro, Va.) hitting two as part of his eight-point effort.
"In practice, Coach just preaches, Push, push, push. That's what he wants us to do, and that's what we do. We've got the personnel to push the ball. I find my shooters, I find my big man running down the floor. We've got a perfect team to push the ball," said point guard Jordon Talley (6'0", 180, Richmond).
Mo Sallah (6'8", 205, Falling Waters, W.Va., a Maryland-Baltimore County commit) scored 14 points.
The focus shifts to Fishburne's first big test of the season. The third-ranked Caissons travel to Wisconsin next week for the St. John's Military Midwest Tip-Off, where they will play Quakerdale Prep (Iowa), Midwest Prep (Ill.) and the host team St. John's Oct. 31-Nov. 2.
"We go back to the drawing board," assistant coach Johnathan Mills said. "This is a good sample. We've got some things we need to improve on. It's a good thing for us as a staff and for the guys to see there are things we still have to do. We want to plant the flag at the top of that mountain. There's a process in doing that, and this was a good step."
More online at www.FishburnePGBasketball.org.