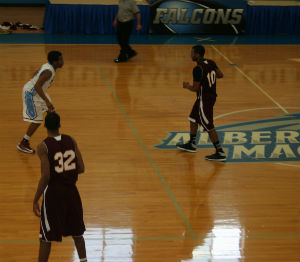 Down 11 with 5:44 to go, Fishburne stormed back with a 16-5 run to tie defending national champion Northfield Mount Hermon with 1:03 left, but an AJ Brodeur layup with 47 seconds left gave NMH the lead for good in an eventual 62-59 final in the quarterfinal round of the National Prep Championships on Tuesday in New Haven, Conn.
The Caissons (25-7) were eliminated from the National Prep Championships by Northfield Mount Hermon for the second consecutive year.
"This is two years in a row that we've lost here in a nail-biter," said FMS coach Ed Huckaby, whose squad lost in the quarterfinals to NMH last year in overtime.
This one didn't seem destined to get even close to overtime after Northfield Mount Hermon (23-8) took control with a 17-4 second-half run that put the Caissons down 52-41 with 5:44 left. A pair of threes by Jordon Talley and Lamell Washington (a Maryland-Baltimore County signee) got FMS back within striking distance, though, cutting the deficit to five at 56-51 with 2:33 left.
Then, after an NMH free throw extended the margin back to six, Garrett Collins hit a three to get Fishburne to within three at 57-54 at the 2:16 mark.
The two teams traded misses until Collins drilled another three on a fast break to tie the game with 1:03 to go, and at this point Fishburne seemed to have all the momentum.
Northfield Mount Hermon coach John Carroll called timeout and set up a play to get the ball inside to Brodeur, whose layup gave NMH the lead back at 59-57.
Fishburne ended up with a chance to take the final shot after a NMH turnover with 18.8 seconds to go, but after a Huckaby timeout to set up a play, the Caissons couldn't get the ball inbounds. Northfield then had a chance to put the game away at the foul line, but a late free-throw miss gave FMS one final desperation heave at the buzzer that fell short.
Key to the loss for Fishburne: turnovers. The Caissons had 26 turnovers in the game.
"We just didn't play our game. We started playing the way we needed to at the end, but we should have been doing that the whole game," Talley said.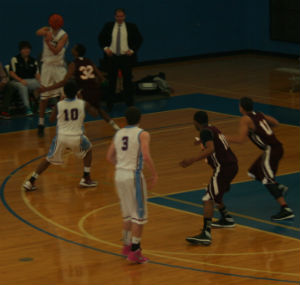 Also key was that Northfield Mount Hermon, which runs a deliberate offensive attack utilizing motion and backscreens and a defense that resembles in some ways the Pack Line defense used by University of Virginia coach Tony Bennett that packs four defenders into the lane, was able to control tempo.
"That was absolutely the focus for us, to make sure that we had pace," NMH coach Carroll said. "They're a terrific pace team. They really do a good job of attacking a defense. We wanted to make sure that we had control of the tempo."
Tre Harris (a Kansas State signee) led Fishburne with 16 points. Collins added 11 off the bench for Fishburne, including those two late threes that came after he suffered a sprained ankle early in the second half.
"It was definitely really frustrating" Collins said. "We thought we should have beaten them. The main thing for us was, we just didn't execute in the middle of the game, and we had to fight back to make it a close game at the end. We felt like if we had just executed in the middle of the game, we wouldn't have had to do that at the end."
At the outset, Fishburne looked to be in the driver's seat, limiting NMH to a pair of free throws in the first 6:25 en route to taking an early 9-2 lead. But then Fishburne went more than eight minutes without a field goal as Northfield Mount Hermon went on a 14-2 run to lead by as many as five in the opening 20 minutes.
The game was tied at 24 at the half before the pace picked up for a stretch in the second half. A Harris three gave Fishburne a 37-35 lead at the 15:14 mark before the Caissons went cold from the field again, scoring just four points over the next nine minutes.
"They did a good job of packing the lane, and we just didn't do a good job of hitting some of the open threes that we normally knock down," Huckaby said. "We got stagnant because we had too many guys trying to play one-one-one. I kept trying to tell them, We can't play one-on-one to get back in the game. We've got to move the ball, and that just didn't happen."
And yet, with all the turnovers, stagnant play and the two long scoring droughts, the Caissons were there until the bitter end.
"That's how we've played all year," Collins said. "Last time we were up here, we were down by 18 at one point and came back. We knew that no matter how far down we were, we could come back and win. You have to play with that mentality. It's all-or-nothing at this point in a season."
"Any team that's coached by Ed Huckaby isn't going to give up. We know that," NMH coach Carroll said. "We've played them now three times in the past 14 months. You can expect them to make a run. They're not going to roll over when you get a lead on them. He's not going to let that happen, and his kids aren't going to let that happen, and they showed that ."
The loss might have derailed the effort by FMS to bring home a national championship, but Huckaby feels the season was a success nonetheless.
"I told the guys, Congratulations on a fine year," Huckaby said. "We've just got to move on and get ready for next season with a new group. These guys have college futures, and I think they're going to do fine."