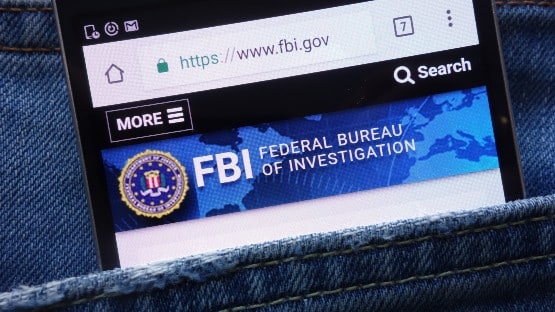 The FBI has taken down an internal assessment produced by its Richmond field office on the increasing interest of racial extremists in radical-traditionalist Catholic ideology after a manfactured outcry by the far right.
Virginia Attorney General Jason Miyares, a Republican, is the latest among those to jump on the fake outrage bandwagon – his office, in a press release disseminated on Friday, made the claim that the Jan. 23 memo "targets Catholics as potential threats due to their religious beliefs."
"Virginia is the birthplace of religious freedom and has a long history of protecting the inalienable right to live your faith free from government interference or intimidation. The leaked memo from our state capital's FBI office is unacceptable, unconstitutional, and un-American. Frankly, it's what I would expect from Communist Cuba," Miyares said in a statement on Friday.
A not-all-that-deep dive into the actual contents of the memo reveals a different story – that it's not Catholics being looked at as potential threats, but rather, white supremacists and election deniers who want to use Catholic ideology as a cover.
First, some backstory on how the memo came to light. The document was leaked to former FBI agent Kyle Seraphin, a Jan. 6 sympathizer who has recast himself as a self-styled FBI whistleblower since he was suspended indefinitely from his job last year.
Seraphin then wrote about the memo on a far-right "news" website, UncoverDC.com, which, gotta say, is quite the work of art – its front page today includes stories highlighting a Florida anti-vax effort, a report on UFOs "that seem to defy natural laws," and an article claiming improprieties in the 2022 Arizona gubernatorial election.
Now to the details of the memo, which was written by an intelligence analyst in the Richmond FBI field office.
The memo offers the assessment that "the increasingly observed interest of racially or ethnically motivated violent extremists (RMVEs) in radical-traditionalist Catholic (RTC) ideology almost certainly presents opportunities for threat mitigation through the exploration of new avenues for tripwire and source development."
"In making this assessment, FBI Richmond relied on the key assumption that (RMVEs) will continue to find (RTC) ideology attractive and will continue to attempt to connect with RTC adherents, both virtually via social media and in-person at places of worship."
An analyst note appended to the memo offers that RTCs are "typically categorized by the rejection of the Second Vatican Council (Vatican II) as a valid church council; disdain for most of the popes elected since Vatican II, particularly Pope Francis and Pope John Paul II; and frequent adherence to anti-Semitic, anti-immigrant, anti-LGBTQ, and white supremacist ideology."
"Radical-traditionalist Catholics compose a small minority of overall Roman Catholic adherents and are separate and distinct from 'traditionalist Catholics' who prefer the Traditional Latin Mass and pre-Vatican II teachings and traditions, without the more extremist ideological beliefs and violent rhetoric," the analyst wrote in the analyst note.
To get a sense of how manufactured the outrage has been on this, replace the references to Catholicism in the memo to Islam and radical Islamists, and see how much in a lather the likes of Kyle Seraphin and Jason Miyares would be in that instance.
It's worth noting that the document, while unclassified, was stamped "for internal use only – do not disseminate externally."
As leaks go, because the memo was unclassified, this one barely registers, except to prove a point made often by Seraphin, who said in an online video that he laughed at the Jan. 6 attack, and has promoted a fundraiser for a Jan. 6 legal defense fund, and has been quite vocal in making the claim that there are "literally hundreds of employees" at the FBI who stand with him.
That this memo ended up in his hands and then was published on a nutjob "news" website would seem to confirm that there are quite a few Jan. 6 sympathizers in the FBI ranks.
But the hue and cry from the far right isn't about those with badges who want to help cover up Jan. 6.
Miyares and 19 other Republican state AGs are requesting a "full explanation" of the origins of the memo, which should be obvious – FBI agents get tips and leads on matters of import, then share them up the chain, and they eventually end in an analyst report – as well as "documents related to its implementation, information regarding how this document has already affected Virginia's Catholic population, and information on whether the FBI has begun infiltrating houses of worship in conflict with the FBI's internal guidelines."
Dear lord.
"As attorney general, I'm responsible for defending Virginians' rights, and religious freedom is the bedrock of the Constitutions of the United States and of Virginia. Virginians should not and will not be labeled 'violent extremists' by their government because of how they worship, or because of their beliefs," Miyares said.
Well, Catholics aren't being targeted, so good news for you there, Mr. AG.
Unless what you're really getting at here is wanting to make sure the racially or ethnically motivated violent extremists who are the focus of this FBI assessment aren't going to be the focus of any investigative efforts.
Actually, good news for you there, too, come to think of it.
The fake outrage machine got the FBI to call off the dogs. The racially or ethnically motivated violent extremists are free to continue trying to overthrow democracy.