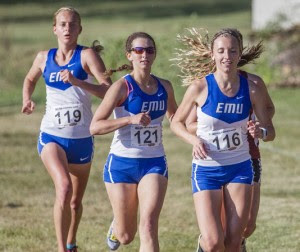 For the first time in 13 years, EMU has an individual cross country champion.  Hannah Chappell-Dick (Bluffton, Ohio/Bluffton) continued her incredible senior season by winning the Old Dominion Athletic Conference (ODAC) Championships Saturday, Oct. 31 in Bridgewater. She covered the 6K course in a time of 22:21.9. She now owns All-ODAC First Team hardware from all four of her years.
She becomes the first Eastern Mennonite harrier to win an ODAC championship since Hall of Honor member Andrea Goodwon her second straight title in 2002. The last winner for the men was Lynn Stoltzfus in 1994. Including Chappell-Dick, the women's team landed three all-conference finishers and took third place.  The men had one all-conference runner and were fifth overall.
Chappell-Dick has also won four of the five official races she has run this season.  After her Oct. 19 performance at the CNU Invitational, topping a field of mostly D-I runners along with the D-III regionally-ranked Christopher Newport squad, she garnered her fourth ODAC Runner of the Week award.
The squad totaled 70 points as a team, finishing just behind second-place Bridgewater at 64. Washington and Lee won the team title with 46 points. Rounding out the scoring were Kat Lehman (Dover, Ohio/Dover), Jolee Paden (St. Joseph, Ill./St. Joseph-Ogden), Laurie Serrell (Harrisonburg, Va./Harrisonburg), Juni Schirch (Goshen, Ind./Goshen), Mary Eldridge (Gig Harbor, Wash./Peninsula), and Brittany Williams (King George, Va./King George).
Not just running honors

Chappell-Dick is a senior honors student majoring in biology with minors in exercise science, coaching and honors studies. She plans on spending a year after graduation working with an intentional community/service program called Dwell (through the DOOR program) in Atlanta, Georgia, where she'd also continue training and competing with the Atlanta Track Club.
Her decision after that depends on how her training is going, she says. She may enroll in graduate school for a master's in public health or an MBA. Chappell-Dick says she's also interested in coaching.
She talks about her choice to attend and compete at EMU, as well as future plans, in an "ODAC Spotlight" video, which can be viewed by clicking here.
Chappell-Dick was a two-time All-American in track and field last year, finishing second in the indoor mile and third in the 1500m at those respective NCAA D.III championships in 2015.
For now, though, there's the regional and national meets to finish out the cross country season and an indoor and outdoor season of track to look forward to, as well as juggling the demands of the classroom and her extra-curricular activities.
Giving back
A leader in the classroom as well as on the field, Chappell-Dick is serving as a student representative on the presidential search committee throughout the 2015-16 academic year.
She is also working with the athletic department to rebuild the Student-Athlete Advisory Committee at EMU, in which student-athletes are able to give feedback on proposed NCAA legislation, advocate for student-athletes on campus, and serve the community through various projects.
With teammate Alec Thibodeaux, Chappell-Dick started a track club called "FLASH" for 10 to 12-year-olds, which meets twice a week in the spring. She's also active in Big Brothers Big Sisters and at Shalom Mennonite Church.
Working around her athletic schedule, Chappell-Dick completed her cross-cultural requirement during a summer 2014 trip to Guatemala. "We stayed with host families and attended language and cultural lessons during the day at CASAS, a program through Semilla Seminary in Guatemala City," she said.
This semester, she is living in an intentional community theme house on campus. The goal of residents of "Bridge House" is to "bridge the gap" between first-year students and seniors with twice-monthly social gatherings.
Story by James DeBoer and Lauren Jefferson