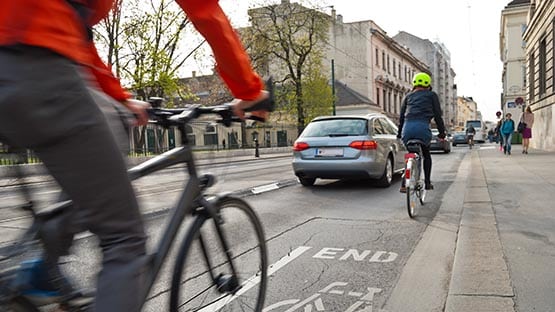 In 2023, there have been 160 bicycle-involved crashes on Virginia's roads, resulting in the death of nine cyclists and 156 injuries.
As National Bicycle Safety Month comes to a close, the Virginia Department of Motor Vehicles is asking all Virginians, both cyclists and motorists, to look out for each other on the road.
"Cyclists are some of our most vulnerable road users. We all share the responsibility of keeping them safe," said DMV Commissioner Gerald Lackey. "Looking out for each other is key. Be visible and predictable as a cyclist, and respect bike lanes and pass with care as a motorist."
The DMV is offering tips for bicyclists and motorists to avoid a potential crash.
Tips for bicyclists
Always wear a properly-fitted helmet
Check your bike equipment before heading out
Ride in the same direction as traffic
Obey traffic signs, signals, and lane markings
Wear equipment to protect you and make you more visible to others
Tips for motorists
Pass bicyclists on the road with care; allow at least three feet clearance
Look for cyclists before opening a car door or pulling out from a parking space
Yield to bicyclists at intersections and as directed by signs and signals
Look for bicyclists before making turns, either left or right
Respect designated bicycle lanes; don't use them for parking, passing or turning