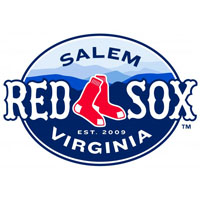 The Carolina Mudcats used 14 singles to post five runs in a 5-1 victory over the Salem Red Sox Tuesday night. Mudcats Adam Plutko was outstanding from start to finish in the victory. The Carolina right-hander tossed seven innings, allowing five hits and an unearned run. Joe Gunkel was saddled with the loss, ten hits and four runs in his six innings of work.
Carolina struck for an opening run against Gunkel. Yhoxian Medina reached on an infield single, followed by a flair to right by Joe Sever that fell in front of Aneury Tavarez. A batter later, Yandy Diaz singled in Media to give the Cats a 1-0 edge.
In the third, Carolina struck for two more. Sever singled with one out and moved to second on a ground out. With two down in the frame, consecutive singles by Jeremy Lucas, LeVon Washington and Luigi Rodriguez plated two runs and put the Mudcats up 3-0.
Salem popped the bubble on the scoreboard in the fourth. Matty Johnson singled, and manufactured a run of his own from there. He reached second on a throwing error on a pickoff. Later he reached third on a wild pitch, and just kept running after a throwing error, posting an unearned run to get Salem on the board.
Carolina added runs in the sixth and seventh to take a 5-1 lead. In the sixth, LeVon Washington singled and moved to second on a groundout. With two downs, Ryan Battaglia hit a high popup that fell between home plate and the mound. Washington was running with two outs, and came around to score as the ball fell in, giving the Mudcats a 4-1 lead. In the seventh, Jeremy Lucas singled in Medina with the bases loaded off Jacob Dahlstrand to finish the Mudcats scoring. Dahlstrand would escape a bases loaded, no out jam with no further damage from there.
Madison Younginer and Matty Ott each threw a scoreless inning in relief. Jacob Lee finished the final two innings for Carolina.
The Sox and Mudcats return to LewisGale Field in less than 24 hours with an 11:05 AM first pitch time Wednesday morning. Simon Mercedes goes for the Sox with Cole Sulser on the bump for the Mudcats.