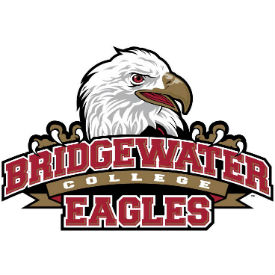 Five former Bridgewater College standout student-athletes were inducted into the College's Athletic Hall of Fame at the annual Hall of Fame Banquet held Friday evening in the newly renovated Nininger Hall gymnasium.
Members of the 2014 Hall of Fame Class include Teresa (Terry) Cox Elia (1983), Marion "Bo" Trumbo (1974), Dwight Denlinger (1981), Barry Davis (1987) and Dan Rush (1995).
Teresa "Terry" Cox Elia played three sports during her college career – basketball, field hockey and tennis.
She excelled on the basketball court where she still ranks in the Top 10 in program history in both assists and steals. She finished her playing career ranked No. 2 in both career assists with 410 and career steals with (223). She dished out 181 assists during her senior year, still the best single-season mark in program history. She also scored 891 career points and pulled down 377 rebounds during her four years.
During her four years, the Eagles posted a 77-38 overall record.  During her first three years, the program advanced to the regional level in AIAW competition and twice played in the national tournament. Bridgewater joined the ODAC prior to Elia's final season and, as a senior, she helped lead the Eagles to a first-place finish during the regular season and a second-place finish at the conference tournament
Marion "Bo" Trumbo was a standout pitcher for the Bridgewater College baseball program and several of his pitching records have stood the test of time for nearly four decades.
Trumbo's career 1.62 earned run average is still the best in program history and he still owns the single-season record with a 1.02 ERA. The lefty is also still tied for the most complete games in program history with 15. Trumbo set the career strikeout record with 140, a mark he held for 25 years.
Trumbo embarked on a career in education as a teacher and coach while continuing to follow his passion for the sport of baseball by working as a professional scout.
Trumbo served Bridgewater College as an Alumni Association Board member from 1989-2009 and was president of the Bridgewater College Alumni Association in 1989. He is currently an ex-officio member of the College's Board of Trustees representing the Alumni Association.
Barry Davis was a stellar performer on the baseball diamond during his playing days in the Bridgewater College program.
He was a two-time All-ODAC selection and was the team MVP as a junior. Davis played on two ODAC Championship teams and graduated as the program's all-time leader in hits. He began his college coaching career at Gloucester County Junior College in new jersey where he led the program to four national titles and eight regional crowns in 11 years. Davis was named National Coach of the Year four times. He then moved to Georgia Southwestern State where he posted a 137-87 record in five years. Davis returned to new jersey as head coach at Division I Rider University in 2004, a job he still holds today. He has led the Broncs to two conference titles and two trips to the NCAA tournament. He was named conference coach of the year in 2006 and 2013.
Dwight Denlinger distinguished himself as one of the top distance runners in Bridgewater College history during his four years as a member of the College's cross country and track programs.
Denlinger won the ODAC cross country individual title in 1980 and qualified for the NCAA national meet.
Denlinger also excelled on the track where he won four individual titles. During his senior year, he won the mile and two-mile during the indoor season and added the 5000 meter crown during the outdoor season. Denlinger also won the indoor two-mile as a junior. He finished his career at Bridgewater ranked second in the 5000 meters and third in the 1500 on the career performance lists.
His accomplishments in the distance events helped lead the Eagles to six team titles during his career. Bridgewater won the ODAC indoor title in 1979, 1980 and 1981 while the outdoor program won championships in 1978, 1979 and 1980.
Dan Rush left his mark on the Bridgewater College record books as one of the top players in men's basketball program history.
Rush was named ODAC Freshman of the Year and followed that season by leading Bridgewater in scoring, field goal percentage and free throw percentage as a sophomore.
As a junior, Rush ranked second in the nation in shooting, making 71 percent of his field goal attempts. He was named to the All-ODAC second team.
As a senior, Rush led the ODAC in scoring with a 25.6 average and was named the conference Player of the Year. He was named to the All-South Region first team and was selected to the National Association of Basketball Coaches All-America First Team.
Rush finished his playing career with 1,756 points to rank No. 5 all-time at Bridgewater College.
The 2104 Hall of Fame class will be recognized Saturday afternoon during halftime of the Bridgewater vs. Hampden-Sydney football game.