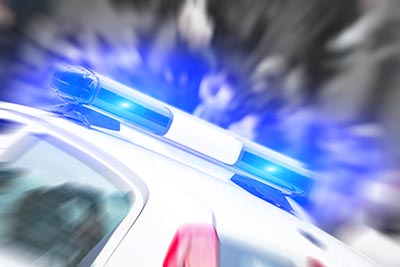 Update: Monday, 8:08 p.m. The person of interest in a shooting that killed six and wounded more than dozen others in Highland Park, Ill., is in custody, according to local police.
Robert E. Crimo III, 22, was apprehended in a vehicular pursuit, according to authorities.
First post: Monday, 6:13 p.m. Six people are dead, and more than two dozen other people were wounded, several critically, in a mass shooting at a July 4 parade in Highland Park, Ill., a Chicago suburb.
Authorities have publicly identified Robert E. Crimo III, 22, as a person of interest in the case. He has been at large since the 10:14 a.m. Central shooting, and authorities are currently engaged in an active search to try to apprehend him.
On what appeared to be his personal Facebook page, a profile photo that he shot selfie-style features him with a mask and a helmet, and in the mirror he appeared to be holding a rifle.
The page was live as of 6 p.m. Eastern, a few minutes after he was named as a suspect in the shooting, but by 6:05 p.m., the profile was no longer active.
Crimo is the son of Bob Crimo, a former Highland Park deli owner who ran for mayor in 2019, losing by a more than 2-to-1 margin to the incumbent, Nancy Rotering, a Democrat.
Five of those killed in the shooting, which began at 10:14 a.m. local time, were adults who died at the scene, according to the Lake County coroner.
The sixth person died at a local hospital, and no other details on that victim have been made known.
The victims range in age from 8 to 85, with as many as five of them children, according to Dr. Brigham Temple at Highland Park Hospital.
The gunman used "a high-powered rifle" that has been recovered by authorities, said Christopher Covelli, the public information officer for the Lake County Sheriff's Office.
A Boston man who was in Highland Park visiting relatives described to the New York Times hearing what he thought was somebody putting off firecrackers from a few feet away.
"And my wife looks up and screams, 'Get up, run. Get up, run.' I turned around and I could see the shooter," said Shawn Cotreau, 47, who described the shooter as a man wearing military fatigues and a hat pulled down.
"I've never imagined this, like actually looking up and seeing a guy shooting bullets at me in America and in a Fourth of July parade. It's unspeakable," Cotreau said.