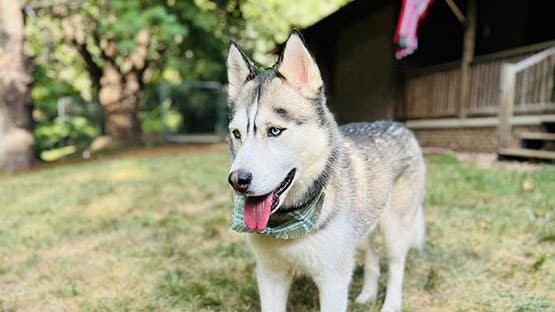 The bond order has been released for the man accused of killing a veteran's service dog in Augusta County.
Louis Edward Davis, Jr. appeared by video in Augusta County Circuit Court on Tuesday.
Circuit Court Judge Paul A. Dryer set bond for Davis at $5,000, a stark contrast to the lower District Court decision to twice deny bond for Davis.
The conditions for the bond show the defendant must:
Obey the laws of the Commonwealth and be of good behavior
Remain in the Commonwealth of Virginia unless otherwise provided for by order of the court and with written consent of the individual or corporation who posted the bond
Appear at all scheduled court hearings
Stay in contact with defense counsel
Advise the court and their attorney of residence address and telephone number
Be on pre-trial supervision with Blue Ridge Court Services and report to BRCS within 24 hours of release
Participate in a substance abuse evaluation and follow all recommendations of that evaluation
Not use or consume alcohol, illegal drugs or marijuana and submit to random drug/alcohol screens as may be ordered by BRCS
Not possess or transport a firearm
The defendant shall reside at 45 Pinebark Dr., Waynesboro Va. 22980
According to the order, failure of Davis to abide by the conditions contained in the order may subject him to immediate arrest and incarceration, new criminal charges and the forfeiture of the bond.
Davis has been charged with a Class 6 felony and a Class 1 misdemeanor related to the Sept. 15 incident:
3.2-6570. Cruelty to animals, and
18.2-56.1 reckless handling of a firearm
The case is currently set in the Augusta County General District Court on Dec. 5 at 1:30 p.m.
Assistant Commonwealth's Attorney Kyle Powers told AFP that his office requested no bond for Davis.
Davis is accused of shooting and killing a veteran's service dog, known as Buddy Bear or Bear, on Sept. 15 in Augusta County. The owners of the dog, Joeseph and Edith Sande, had moved to Virginia less than a month ago.
The Sandes had not met the neighbors, the Davises, prior to this incident.
The Sandes and another neighbor, Renee Roberts, were granted a temporary protection order Tuesday against the Davises.
After the hearing Tuesday, Roberts and Joeseph Sande told AFP that the wife of Davis, Teresa, cursed at Roberts calling her a "bitch."
A hearing is scheduled for Oct. 6 at 9 a.m. for the Davises to defend themselves against the allegations.
Related stories
Augusta County judge approves bond for man accused of killing vet's service dog
Augusta County: Bond appeal filed by man accused of killing neighbor's service dog
Bond denied for Augusta County man accused of shooting service dog
New to Virginia, Augusta County military vet's service dog shot and killed by neighbor