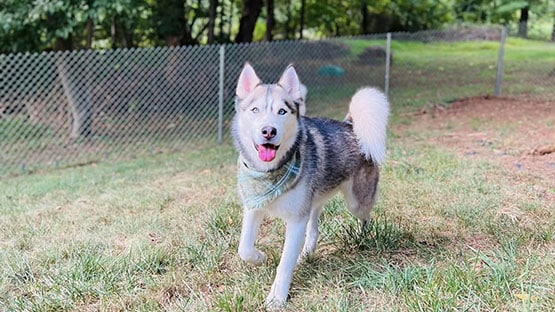 An Augusta County man accused of killing a veteran's service dog, Buddy Bear, was granted a $5,000 bond today. The Circuit Court judge ruled on the appeal for Louis Edward Davis Jr. at an 11:15 a.m. hearing.
Bond was denied by General District Judge Rupen Shah one week ago, and Davis filed an appeal with Augusta County Circuit Court on Wednesday.
Joeseph Sande, who moved to the area in the last month with his wife, Edith, and their two huskies, one a service dog to help him deal with PTSD, told AFP he was disappointed in the outcome.
"The way that court went today destroys my trust for our judicial system and makes me question why I went overseas to protect a country that won't even protect me when a man admits to shooting my best friend," Joeseph Sande said.
According to Sande, as condition of the bond, Davis is required to live with his daughter in Crimora and not allowed to return to his residence in the Cherry Orchard subdivision in Augusta County. Davis is also supposed to have any firearms at his home removed. The judge also enlisted Blue Ridge Court Services, who could order a mental evaluation of Davis or require a drug test at any time.
The Sandes, and their neighbor, Renee Roberts, were granted protective orders today against Louis Davis and his wife, Teresa. A hearing is scheduled for Oct. 6 at 9 a.m. for the Davises to defend themselves against the allegations, according to Roberts.
Davis' wife allegedly cursed at Roberts after the hearing today calling her a "bitch."
Roberts said the Davises have shown no remorse and offered no apology for the tragedy.
"They have no remorse. They're angry with us," Roberts said. "They have not attempted to offer any sympathy. No apology. Nothing. This wasn't a mistake. This was purposely done."
Roberts doesn't think it is likely the Davises will adhere to the conditions of the bond.
"Who is going to be there to enforce this?" Roberts said. "It's very unsettling. It's very stressful to know that he can come back to our neighborhood. I mean, what's stopping him? And who is going to monitor where he is? All the time?
"I think we all fear for our safety at this point," she said.
The Sandes said they are keeping their other husky, Hazel, inside the house, for her protection.
"We do not feel safe in our own home, especially having Hazel here," Edith Sande said. "We have so many questions. Who will ensure he (Louis Davis) doesn't have access to firearms?"
Joeseph Sande, who previously told AFP he fell in love with Virginia while serving in the military, said he regrets their decision to move to the state.
"I do not feel safe at all where we live being across the street from the killer of my best friend, Bear. The Davises are very hostile toward us and the community, and we never know when we're going to find Hazel dead outside from them retaliating and shooting her, too.
"I'll never forget how I was the one who brought Bear here to die due to trying to have him see snow at his own home for the first time in his life," Joeseph said. "Moving here to Waynesboro, Virginia, is one of my biggest regrets of my life.
"We will not feel safe at home, and I have been having more trouble sleeping due to not having Bear here to help me with my night terrors when I do fall asleep," he said. "I'm terrified for my family's safety, and I believe that this man would come to our house at night and kill us while we were sleeping if he found a chance to do so."
Assistant Commonwealth's Attorney Kyle Powers confirmed to AFP that Circuit Court Judge Paul A. Dryer granted the bond today. He said he is waiting for the judge to officially enter the terms and conditions of the bond but will provide those to AFP when available. Powers had previously told AFP that his office was pushing for no bond for Davis.
Davis has been charged with a Class 6 felony and a Class 1 misdemeanor related to the Sept. 15 incident:
3.2-6570. Cruelty to animals, and
18.2-56.1 reckless handling of a firearm
A preliminary hearing has been scheduled for Dec. 5 at 1:30 p.m.
Related stories
Augusta County: Bond appeal filed by man accused of killing neighbor's service dog
Bond denied for Augusta County man accused of shooting service dog
New to Virginia, Augusta County military vet's service dog shot and killed by neighbor