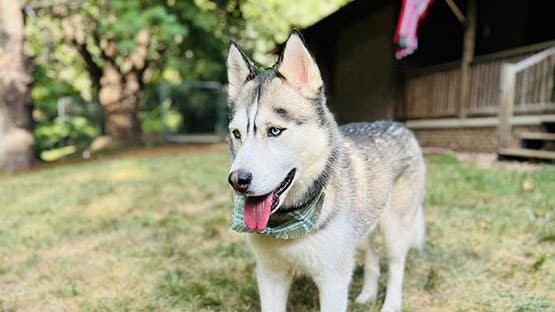 Joeseph Sande, and his wife, Edith, and their two huskies, Bear and Hazel, moved to Virginia less than a month ago. As a former serviceman, Joeseph had fallen in love with Virginia and thought it was the perfect place to put down roots with his family.
On Friday, a neighbor they had never met shot and killed Bear, aka Buddy Bear, his service dog, just after 7:30 a.m.
Bear had escaped his fence and was on Mormon Gap Road in the Cherry Orchard subdivision in Augusta County when Joeseph heard a loud gunshot followed by a blood curdling howl.
Joeseph rushed to find his dog and picked up his body in the road and rushed to the animal hospital in an effort to save Bear's life.
"Bear was laying right on the street, and he wasn't able to move at all. Like he lifted his head a little bit and his pupils got big, and he kind of moved his front paw a little, but he wasn't able to move much," Joeseph told AFP.
Despite speeding to get Bear to the hospital and denting his bumper in the rush to get his dog there, Bear died in the back seat of Joeseph's truck.
The neighbor responsible, Louis Edward Davis, 67, was arrested and charged with a felony animal cruelty; torture causing death charge and reckless handling of a firearm, according to the Augusta County Sheriff's Department.
Davis is currently being held without bond at Middle River Regional Jail.
A large caliber revolver believed to have been used in the incident was recovered and seized by deputies.
A conviction of the Class 6 Felony could include one to five years in prison and a fine of $2,500.
Joeseph said they had never met Davis.
"It feels like my heart was ripped out," Joeseph Sande said. "I fight for the country and then come back and have to worry about my dog losing his life. I lost friends overseas. Fourteen people were killed in front of me from a suicide bomber in Afghanistan.
"And I have my own dog shot like right off my property. It's heartbreaking. It's so hard to deal with it because he was my rock. Every time I was starting to have a PTSD episode, he was there to snap me out of it. He would just bark at me. Then he'd come up and rub against me until I was feeling better."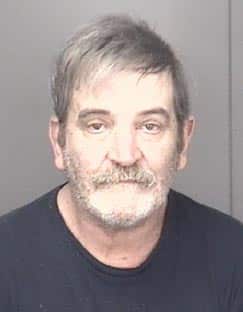 Davis had a history of threatening dogs in his quiet cul de sac, according to another neighbor, Renee Roberts.
"He has threatened me on occasions and said that he would kill my dogs if they don't shut up," she said.
Roberts has lived in the neighborhood for 25 years and said the houses are each on five-acre tracts giving each homeowner lots of property for dogs to run. She said her husband died about six years ago, and that since then, the once-friendly Davis had changed. She said her three medium-sized dogs stay on her property, but that Davis would shout at her and say he would kill her dogs if they didn't shut up.
She has been living in fear for her life and that of her dogs for years but too afraid to get a restraining order or pursue legal means out of fear that it could make things far worse.
"He will come out and all hours of the day and night and discharge his pistol or whatever firearm he happens to have. And of course, my dogs run inside. I mean, we run inside. It's not been a comfortable living situation since my husband died," Roberts said. "I've been afraid to call the cops prior to this about him shooting guns, because I'm afraid."
Roberts and the Sandes plan to petition the court so Davis doesn't get bond – worried he'd be a flight risk and a danger to everyone living around him.
Bear had turned 5 on June 6. Due to the move, Joeseph said they had not celebrated his birthday yet. But they had just gotten all the ingredients to make Bear a cake – and now he is gone.
Joeseph said his wife had already left for work on Friday. His home office overlooks their back yard. The dogs have a doggie door so they can go in and out as they need to.
When he heard the howl, his second dog, Hazel, came inside with the "most terrified look in her face. She's the one who indicated to me that something was wrong."
Bear, he said, couldn't have been outside of the fence for more than 5 or 10 minutes.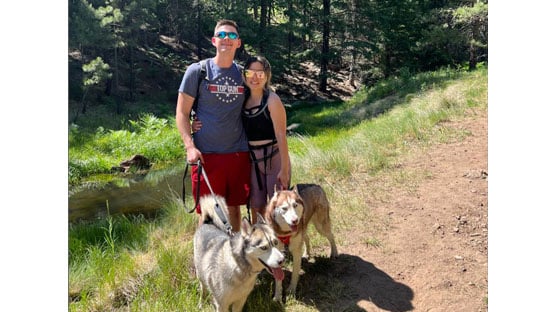 Joeseph said he wants the maximum possible sentence for Davis and restitution for the damage to his truck (he received damage on his way to the animal hospital) and for his service dog as there is a lot of expense associated with training a service dog.
"I fear for our lives," Joeseph said. "I fear for my wife, my other husky, Hazel. I fear tremendously for her life. If he gets out, I know he's gonna try to retaliate against everyone."
Retaliate against a dog, Joeseph said, or even a person.
"We fear for our good neighbors' lives, their pets' lives," he said. "I'm a combat veteran. I'm not usually afraid of anything.
"He (Bear) was a hero. He saved the neighbors' dogs. If it wouldn't have been him, he could have shot anyone's dog."
Not quite the warm welcome the Sandes had hoped for when they chose to live in a state with a slogan of "Virginia is for Lovers." They moved to Virginia from Arizona, but Joeseph said with his military career, he has had stints in Texas, New York, South Carolina, Afghanistan, Kuwait and Iraq. Joeseph is currently working on his master's degree and works for Northrop Grumman as a software engineer.
"I fell in love with Virginia when I came here," he said. "It was in my training days when I was in Virginia, but I loved the state, and I wanted to make it back here. It was a dream of mine because it was paradise, and I wanted to bring my family here. I shouldn't blame myself, but I kind of blame myself for bringing him here."
Edith Sande thanked Bear for protecting them everywhere they travelled through a Facebook post.
"I know your mission was to be loyal and protect," Edith said. "You saved us and all the other pets that were around you."
Edith and Joeseph, known as Joey to his friends, have created a hashtag for posts related to justice for their dog: #justiceforbuddybear
"We enjoyed the short time you got to spend on this earth with us," Edith Sande wrote. "We hope you have all the watermelon, treats and snow you ever dreamed of in puppy heaven."
Related stories
Animal wellness organization applauds prosecutors for dismantling dogfighting ring
K9 Rico may be headed to early retirement, if funds are raised in time for a new dog
Waynesboro man in custody in animal cruelty case: Dogs, cats, ducks in awful living conditions
The best solution to sniff out the dangerous spotted lanternfly? Leave it to the dogs
Justice for Scout: Virginia dog trainer sentenced in animal cruelty case
Augusta County residents demand justice after shelter euthanizes four dogs
Craigsville dog euthanized by shelter; owner was waiting for paycheck to pick up pet
Friends of SVASC steps in to help dog owner in need with life-saving surgery
Former police dog takes holiday eating to new level, swallowing décor, toys