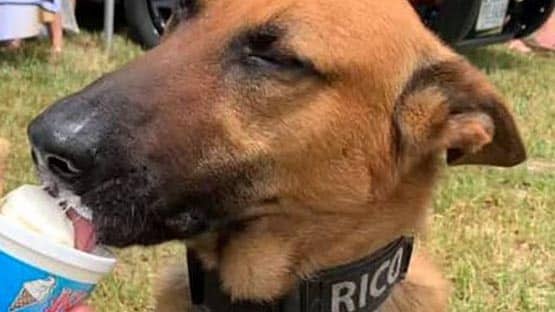 A K9 dog is in line to take an early retirement with his handler if enough funds can be raised before Aug. 30.
K9 Rico's handler is no longer employed with the Augusta County Sheriff's Office, and the plan is to re-assign the dog to a new handler in the near future.
However, according to Augusta County Sheriff Donald Smith, a greener pasture may lie ahead for the service dog. Smith said he has been approached by Blue Ridge Canine Services, a local rescue group, who has asked to the opportunity to raise funds for a new K9 and allow Rico to officially retire.
Smith said he has agreed to allow them to try to raise the funds before the dog is reassigned.
"While I understand the special bonds that can form between handlers and K9s, a large amount of taxpayer funds are involved in the procurement and training of these unique dogs," Smith said. "I do not feel that I would be a good steward of taxpayer's money by retiring K9 Rico while he is still a valuable part of our team."
Pledges totaling $19,000 will be required by August 30 to send Rico to live with his former handler.
Specialized training with K9s and their handlers is scheduled to begin in September. In order to send Rico to his early retirement, the funds will need to be raised before then.
To make a pledge toward the new K9 purchase, contact Amy Swope with Blue Ridge Canine Services at (434) 987-1572 or donate via the GoFundMe.
Pledges will be collected after the full goal is reached.