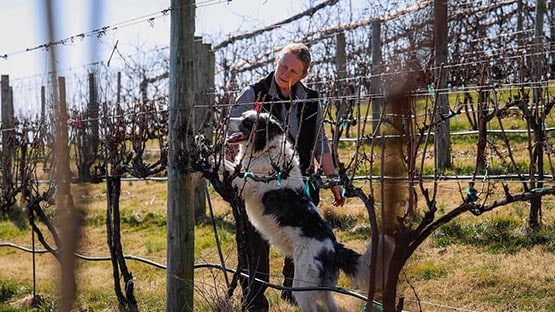 Researchers at Virginia Tech's College of Agriculture and Life Sciences are studying a new approach in the fight against the spotted lanternfly.
With a four-year, $475,000 grant from the U.S. Department of Agriculture, researchers are looking about how dogs could help sniff out lanternfly eggs. The project, known as the Canine Citizen Science Study, started two years ago at Texas Tech.
If this method works, it may no longer be necessary to stomp, squash or smash the deadly leafhopper.
Flint, an 8-year-old border collie, has been trained in emergency situations as a cadaver dog. More recently, he's become an expert at finding spotted lanternfly eggs.
"Every day, average dogs are competing and finding these scents, and that speaks to their potential ability to detect ecologically and agriculturally relevant targets," said Erica Feuerbacher, an associate professor of applied animal welfare and behavior in the School of Animal Sciences.
Flint recently showed off his sense of smell at the Alson H. Smith Jr. Agricultural Research and Extension Center in Winchester. This was Flint's first foray into the field. Up until this point, his owner, Sally Dickinson, a doctoral candidate in the School of Animal Sciences, had only trained him at home using spotted lanternfly egg samples.
"To train a dog to detect an odor, we use a pairing mechanism," Dickinson said. "The dog has to learn that a particular odor is of value to them. We present the odor and pair that with something that is pleasurable or edible – whatever is reinforcing to the dog. That creates a message in the dog's mind that, 'If I look for that thing, and I find it, something really good happens in my life.'"
Sniffing, stopping, and even pointing with his paw when lines of tiny eggs were detected, Flint's reward was a handful of treats.
Early detection is critical to stopping and destroying the lanternfly. Their eggs are very small and often laid on the underside of plants. As they develop into adults, the flies start feeding on the plants and stealing their nutrients. What they don't digest, they discharge on the leaves of the plant, inviting another issue: mold.
As the "dog detectives" master their craft, the research group will be challenging them to detect additional harmful predators, like the deadly plant pathogen, powdery mildew.
Partnering with the National Association of Canine Scent Work, Feuerbacher and Dickinson will recruit teams of dogs and their owners to help detect spotted lanternfly eggs.
"This is a great opportunity for people to have fun with their dogs while also contributing back to their communities in a meaningful way," Feuerbacher said.
Dickinson said dog owners should ignore the myth that certain dog breeds aren't suitable for scent detection.
"There is plenty of research out there that indicates that all dogs can smell," she said. "Maybe the 'smooshy'-nosed dogs aren't as good in the really hot weather to work for five hours straight, but they can definitely do it."
Research has shown, Dickinson said, that scent training may also contribute to positive behavioral changes in dogs.
"At the completion of the study, we hope to have a strong network of handlers able to locate spotted lanternfly egg masses as a proof-of-concept program, with the intent to create an enduring citizen-based detection program for this and other invasive species," Dickinson said. "Put your training skills to work and help protect our vineyards, fruit orchards and flower gardens."