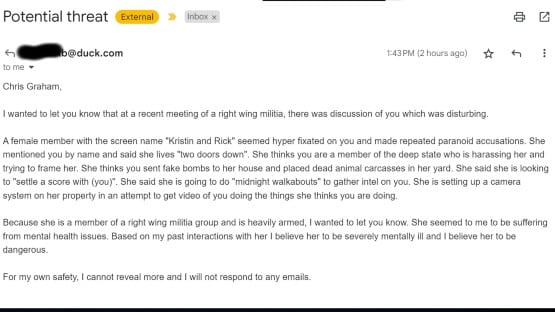 A neighbor of mine in Waynesboro, according to an anonymous email, who said she lives "two doors down" from me, reportedly thinks I'm a member of the "Deep State" who is harassing her and trying to frame her.
This "disturbing" information came from an anonymous email sent to my [email protected] account on Friday.
Information in the email actually adds up. The screen name used in the right-wing militia discussion online, according to the anonymous email, matches the first names of the wife and husband who live two doors down from me, and the first name of the woman who lives at the address matches the name of a person who has commented four times on discussion threads attached to AFP stories reporting on Waynesboro Vice Mayor Jim Wood, a right-winger who was asked by one Waynesboro City Council member to resign his seat for his homophobic slur of Transportation Secretary Pete Buttigieg on Wood's now-discontinued Facebook talk show.
In one comment, the woman with the name matching the screen name decried a letter writer's "communist ideals of silencing anyone who doesn't agree with you." In another, she wrote in response to another letter writer who cast Wood's slur of Buttigieg as being "hate speech" by commenting that "hate must be a relative term because the only hate being spewed is being directed at Jim in this media outlet."
"She thinks you sent fake bombs to her house and placed dead animal carcasses in her yard," the anonymous emailer wrote. "She said she is looking to "settle a score with (you)". She said she is going to do "midnight walkabouts" to gather intel on you. She is setting up a camera system on her property in an attempt to get video of you doing the things she thinks you are doing."
"Because she is a member of a right wing militia group and is heavily armed, I wanted to let you know. She seemed to me to be suffering from mental health issues. Based on my past interactions with her I believe her to be severely mentally ill and I believe her to be dangerous."
The matter has been reported to the Waynesboro Police, but there really isn't much for the PD to do other than note the names of the neighbors and the reported threat.
I tried to track down the online discussion referenced in the anonymous email, to no avail, and also tried to reach the home of the neighbors by phone, but the phone number that I was able to find for the residence online is no longer in service.
I would go knock on the door, but for obvious reasons, nah, not going to do that.
The warning from the anonymous emailer is that she is "armed," "mentally ill" and "dangerous."
This could have been a friendly warning, and it could have been a dirty-trick catfishing effort from someone using the guise of being friendly to attempt to terrorize.
I'm leaning in the direction of thinking it's the latter, but if anything tragic happens, the police have their prime suspect.