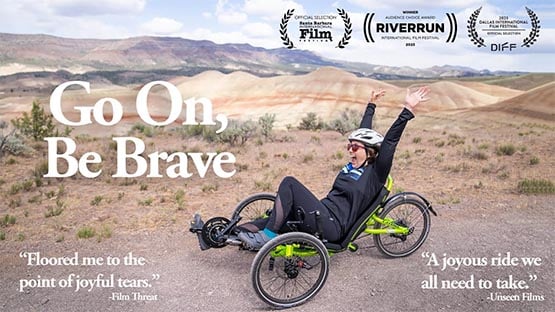 A screening of the film Go On, Be Brave, will be presented at The Paramount Theater in Charlottesville on Sept. 23, at 7 p.m.
The documentary screening is presented by The Team Drea Foundation.
There will also be a special screening of the short documentary, Who Is A Runner, featuring Charlottesville's own Prolyfyck Run Crew.
Go On, Be Brave begins when Andrea Lytle Peet receives the death sentence of an ALS diagnosis at age 33. The life expectancy for ALS is two to five years. She is told her disease is rapidly progressing and to get her affairs in order. She does.
And like a true athlete, she decides to do one final triathlon before she dies. She walks across the finish line with trekking poles, her husband, David, by her side.
And then she waits. And waits. Until one day, she gets tired of waiting to die. She decides to live.
At the five-year anniversary of her ALS diagnosis, Peet sets an ambitious goal: be the first person with ALS to complete a marathon in all 50 U.S. states. An "attempt at the impossible," shares her neurologist Dr. Bedlack; a goal even Andrea doesn't think she will reach. But she wants to try.
As we follow Andrea's story for more than three years, we see that her journey is not at all what we expected. It is not solely an epic sports tale nor is it a sobering depiction of a patient with ALS preparing to die.
Instead, it is a story of hope that transcends sport and disease. What starts out as one woman's individual quest towards 50 marathons evolves into a story of community. It is about the quieter moments between races where Andrea brings hope and joy to people with ALS as they fight for a cure together.
Go On, Be Brave is a meditation on life – of how each one of us chooses to live.
Pre-signed copies of Peet's memoir, Hope Fights Back, will be available for purchase from New Dominion Bookshop.
Tickets to the documentary screening start at $17. There is also a package for $42.50 which includes the memoir. To purchase tickets online, click here.