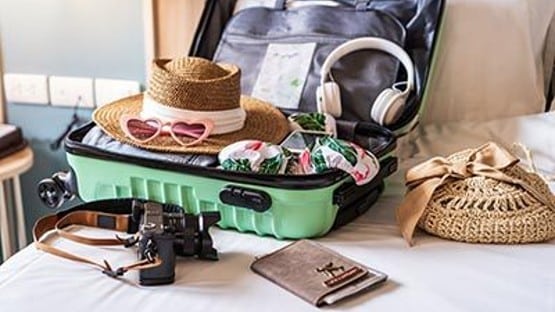 Labor Day weekend travel is expected to be busier this year than in 2022, on the road, in the air and for those who are cruising.
AAA is warning travelers to consider their plans with Hurricane Idalia headed toward the Gulf Coast and potentially impacting tourist areas along the southern east coast.
According to AAA booking data, flights, hotels, rental cars and cruises are all up over 2022.
Most Labor Day travelers will drive to their holiday destinations, closing out the summer with one more road trip. Gas prices, which have been on the rise since mid-July, are not expected to deter those who want to get away. Despite the recent increase, the price at the pump is actually about the same as it was over the holiday weekend last year.
"Whether you are hitting the road, headed to the airport or getting ready to set to sail over the holiday weekend, travelers should expect a lot of company and plan accordingly," said Morgan Dean, AAA Mid-Atlantic spokesperson in Virginia. "Drivers, in particular, should ensure their vehicles are road ready, especially given the toll summer heat can take on batteries and tires."
Last year, AAA responded to more than 6,000 emergency roadside service calls in Virginia over the Labor Day weekend. Nearly half of those calls required a tow.
Hurricane Idalia's impact on Labor Day weekend
Hurricane Idalia is threatening Florida and the Southeastern U.S.
The latest storm track brings it through Florida, Georgia and the Carolinas, with potential impacts all along the track and even into southern Virginia.
The southeastern coast is a popular destination for travelers from Virginia and the Mid-Atlantic.
Tropical systems pack high winds and heavy rains that can down trees and power lines, damage homes and buildings and create dangerous storm surges.
Those traveling to areas that could be impacted by the storm should be following the forecast closely and verify that their flights, lodging and other activities haven't been affected.
"Even the remnants of a tropical system can be dangerous, heavy downpours can fill up creeks, lakes, rivers and ditches and create flooding and ponding on roadways," said Dean. "Never drive through standing water, it could be hiding a washed out road or dangerous debris, and the current could be strong enough to carry away your vehicle along with everyone inside of it."
Even those traveling by air to areas that aren't in Idalia's path could still see flight delays and other impacts if airlines have to cancel flights and airports are shut down because of weather concerns.
Airport shutdowns and airline cancellations can have a ripple effect on flights in and out of other airports if planes and crews become stranded elsewhere.
Downloading your airline's app gives you a direct line of communication to the airline if there are delays with your flight.
Related stories
Traffic alert: VDOT lifts lane closures, suspends work zones for Labor Day weekend travel
Tropical storms, flooding likely on Virginia waterways this Labor Day
Virginia to ramp up sobriety checkpoints, saturation patrols through Labor Day