Kiski led #2 Fishburne by as many as nine points in the first half, but the Caissons took control with defense in a strong second-half performance that lifted FMS to a 76-63 win at the FMS Best Western Caisson Shootout.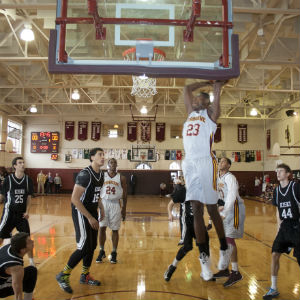 With a number of college coaches in attendance, including Kansas State head coach Bruce Weber and ODU assistant Bryant Stith, Fishburne (12-1) jumped out to an early 18-6 lead, but a 17-0 Kiski run reversed momentum, and Kiski led 41-32 with 1:11 to go in the half.
Ryan Andino (6'0", 175, Fort Lauderdale, Fla.) only scored nine points on the afternoon, but they all came in the final 1:11 of the first half, on a pair of three-pointers and an and-one that drew the Caissons to within one, 42-41, at halftime.
"Ryan has done that all year for us. He's a shooter supreme. He's our Ray Allen," said Fishburne coach Ed Huckaby, whose team, fueled by the late run by Andino, took control early in the second half with a 15-4 run over the first 6:58 to lead 52-46.
After Kiski closed to within 55-50, it was Tre Harris' turn to take over. Harris (6'5", 180, Glen Carbon, Ill./Kansas State) scored the game's next seven points on a pair of jumpers and a three-pointer that extended the lead to 12 at 62-50 with 9:57 to go.
A three by James Rucker (6'4", 185, Knightdale, N.C.) made it 68-50 Fishburne with 6:33 to go, and Kiski would never be closer than 12 the rest of the way.
FMS held Kiski to eight points in the first 14:53 of the second half and just 21 points overall in the final 20 minutes, taking control of the game with defense.
"We knew if we were going to have a chance to win, we were going to have to stop them. We were a lot more active, got our hands on a lot of passes, loose balls, things like that," said Harris, who scored 13 points.
Shamiek Sheppard (6'6", 215, Brooklyn) led Fishburne with 14 points. Chris Wray (6'7", 175, Shelby, N.C., Mount St. Mary's) added 10 points for the Caissons.
More online at www.FishburnePGBasketball.org.