Live Blog: #2 Virginia faces Georgia Tech in ACC Thursday night action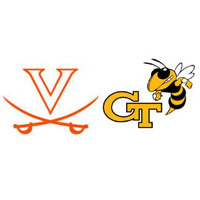 Chris Graham leads our live blog as second-ranked Virginia (16-1, 5-0 ACC) faces Georgia Tech (10-7, 3-1 ACC) in ACC basketball action on Thursday.
Broadcast Information
The UVA-Georgia Tech contest will be televised on the ACC Network and streamed on ACC Network Extra (ESPN3.com) and ESPN App, and broadcast on the Virginia Sports Radio Network, VirginiaSports.com and Virginia Athletics mobile app on iTunes or Android.
Live statistics will be located on VirginiaSports.com and the Virginia Sports app.
Keys to the game: Virginia
Attacking the zones: Georgia Tech doesn't sit back in its zone defense, switching things up sometimes possession to possession. Opponents can have trouble recognizing the look, taking precious seconds off the shot clock and forcing scrambles as the clock runs down. It will be incumbent upon Virginia's guards to get the team into offensive sets early.
De'Andre Hunter: The 6'7" guard/forward was a zone-buster against Syracuse in a 68-61 UVA win on Jan. 9, scoring 15 points, 13 in the first half, dominating the area in the soft middle of the 2-3, the area at and around the free-throw line. Hunter had just two points in Virginia's 68-51 win over NC State on Sunday, but he will need to step up as a focal point for Virginia to have success against the GT zone.
Jack Salt on Ben Lammers: Salt played a career-high 35 minutes in Virginia's 62-49 win over Georgia Tech last year in Charlottesville, squaring off with Lammers, who played 38 minutes and scored just seven points on 3-of-12 shooting. Expect Salt to get another workout tonight checking Lammers in the post.