Sports
Liberty football: Lunsford, Woodrum invited to NFL Combine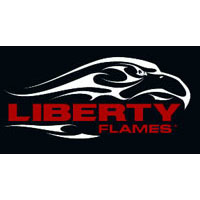 Liberty kicker John Lunsford and quarterback Josh Woodrum are among the top collegiate players in the country who have been invited to participate in the 2016 NFL Scouting Combine.
Earlier today, the NFL released its invitee list which features over 300 of the best draft-eligible college players in the country. The NFL Scouting Combine will be held at Lucas Oil Stadium in Indianapolis, Ind., Feb. 23-29.
Top executives, coaching staffs, player personnel departments and medical personnel from all 32 NFL teams will be on hand to evaluate the nation's top college football players eligible for the upcoming NFL Draft. The intense, four-day job interview is an exciting time for the athletes and a vital step in achieving their dreams of playing in the NFL.
Lunsford and Woodrum were two of 22 FCS players invited to this year's NFL Scouting Combine. Liberty was one of five FCS programs with multiple invitees, joining Harvard (2), North Dakota State (2), South Carolina State (2) and Southern Utah (3).
Lunsford and the kickers will have their on-field workouts on Feb. 26, while Woodrum and the quarterbacks will follow with on-field workouts on Feb. 27.
Lunsford and Woodrum are the first Liberty players to be invited to the NFL Scouting Combine since running back Rashad Jennings in 2009. Later that year, Jennings was selected in the seventh round of the NFL Draft by the Jacksonville Jaguars.
Lunsford and Woodrum have already showcased their talents since finishing their Liberty careers, last November. Lunsford took part in the 91st annual East-West Shrine Game, while Woodrum participated in the 2016 NFLPA Collegiate Bowl.
Lunsford was a three-time All-American for the Flames. He was named a Sports Network and Fabulous Fifty FCS All-America first-team honoree in 2014 and to the STATS FCS All-America second team in 2015.
Lunsford finished his career as the NCAA FCS career record holder with 12 50-plus yard field goals. He is Liberty's all-time leader in career extra points made (150) and ranks second in field goals (48) and career scoring (294 points).
The native of Fort Myers, Fla., completed his senior season ranked No. 12 in the country among FCS kickers in career field goal attempts (79) and No. 23 in career field goals (48).
Woodrum finished his career as the program's all-time record holder in passing yards (10,266), completions (833) and attempts (1,304). The native of Roanoke, Va., also completed his career with 61 touchdown passes, which ranks second on Liberty's all-time list.
The three-time All-Big South selection (second team, 2013, 2014 and 2015) set a program record and ranks second in Big South history with 10,690 total offensive yards.
Woodrum posted six of his 14 career 250-yard passing games during his senior season, including Liberty's 2015 finale when the senior led the Flames to a 24-21 win over No. 4 Coastal Carolina during his final career game.