Sports
Kitchings offers bleak assessment of Virginia offense after 'terrible' practice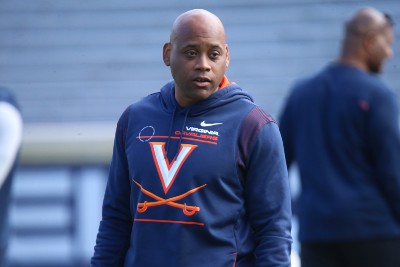 Des Kitchings wasn't happy with his Virginia offense after Tuesday's practice.
"We had a terrible day offensively. Too many turnovers, too many pre-snap penalties. We had a pass period, you know, too many sacks," said Kitchings, the offensive coordinator on the staff of new coach Tony Elliott.
Most recently with the NFL's Atlanta Falcons, Kitchings inherited a record-setting pass offense led by QB1 Brennan Armstrong (4,449 yards, 31 TDs, 91.8 PFF grade in 2021) and wideouts Dontayvion Wicks (1,203 yards, 9 TDs, 78.8 PFF grade), Keytaon Thompson (1,237 yards from scrimmage, 5 TDs, 85.5 PFF grade) and Billy Kemp IV (725 yards, 6 TDs, 73.8 PFF grade), and little else.
The offensive line lost everybody, the running game was nonexistent under Kitching's predecessor, Robert Anae.
The edict from Kitchings, handed down to him from Elliott: "we've got to be balanced."
"We've got to be able to run the ball physically, but we've got to pass protect, too. So, it's all encompassing, you know," Kitchings said.
The troubles start up front. Elliott retained Garett Tujugue from Bronco Mendenhall's staff to coach the offensive line, and Coach 2J has his work cut out for him trying to piece together a group that can keep Armstrong upright.
Elliott said last month, and reiterated after the first practice on Aug. 3, that the O line has experience, "just not a lot of it," starting with 6'4", 280-pound junior Jonathan Leech (224 career snaps, including 183 in 2021), who saw time at both tackle and both guard spots this spring.
Elliott is also high on Logan Taylor, a 6'7", 332-pound sophomore who was a four-star prep recruit, but was limited in the spring due to injury, and grad transfer John Paul Flores (6'5", 300, Dartmouth), who was a second-team All-Ivy selection in 2021, grading out at 67.4 on 621 snaps over 10 games.
Flores had offers from a host of schools, including SMU, Temple and East Carolina, so, FCS guy or not, it wasn't just Virginia that thought he could contribute at the next level.
Jestus Johnson, a 6'6", 330-pound sophomore, got snaps in the spring at center and the guard spots. Derek Devine, a 6'6", 286-pound soon-to-be grad senior, rotated at guard and tackle. Ty Furnish, a 6'4", 270-pound sophomore got time at center.
Also getting good looks in the spring were 6'5", 323-pound guard Noah Josey and 6'7", 272-pound sophomore Charlie Patterson at left tackle.
Problem is, Tujague and Kitchings haven't been able to get guys consistent reps in training camp because of injuries and illnesses.
"It's been a revolving door rotation wise with the O line," Kitchings said. "Again, guys, come on, you've got a great opportunity right here, seize the moment, compete, get after it, and it'll gel. You know, hopefully, we'll get these other guys back here before we get ready to prepare for Richmond, and get this group to start gelling. Because there's moments when they're out there together, and it looks pretty good, and then there's moments where it looks really, really bad."
This doesn't bode well for the Virginia offense, obviously. It sounds like Armstrong is going to be running for his life from defensive linemen and linebackers, the occasional safety or corner on a blitz.
The idea of trying to have more balance by developing a running game is also made more difficult by the troubles up front.
No one seems to be emerging from a group of tailbacks vying for the starting job. Elliott had signaled last week that walk-on Perris Jones was the leader at the moment, ahead of Mike Hollins, who ran for 213 yards and two TDs in 2021, Miami transfer Cody Brown, a 5'10", 227-pound sophomore who was a four-star prep recruit, and Amaad Foston, a 6'0", 228-pound sophomore who had enrolled in the spring semester in 2021 to be able to participate in spring practice, then didn't get on the field in the fall.
Kitchings said he's still looking for who will be the "alpha dog" from the group.
"When you look at camp, like, Perris is a guy day to day who has kind of been doing that right now. The guys have had their flashes. Mike has had his day, Cody's had his day, Amaad has had his day. But again, we need more consistency, and that's just a common theme throughout offensively. To get the get in sync, get a rhythm, we need all 11 guys playing consistent," Kitchings said.