Charlotte Motor Speedway gets a makeover for the playoffs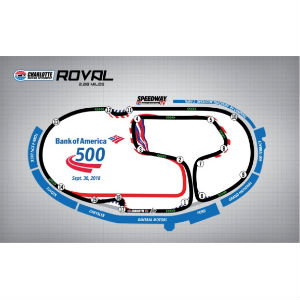 This fall, Charlotte Motor Speedway will get the ultimate makeover heading into the playoffs as the famed track will transform into a "roval" for the September running of the Bank of America 500.
This week during the NASCAR Media Tour in Charlotte, speedway officials revealed the finalized, revolutionary "Roval" layout ahead of the historic Bank of America 500 race. Charlotte Motor Speedway will transform into a 17-turn, 2.28-mile road course that features a faster infield portion and additional passing opportunities. The makeover at CMS will also signal the first road course race in the history of the Monster Energy NASCAR Cup Series Playoffs.
The NASCAR course layout promises to give drivers more speed, quicker lap times and more chances to race their way to the front – and into the record books. A remarkable, 35-foot elevation change between Roval Turn 4 – the track's lowest point – and Roval Turn 9, its highest, means that the winner will literally face highs and lows before basking in the glow of victory.
Media members in attendance on Monday at the track experienced the Roval first-hand in an adrenaline-pumping, "Roval ride-and-drive". Series drivers from past and present including Jeff Burton, Dale Jarrett, Christopher Bell and Brandon Jones gave the media the opportunity to experience the roval at CMS up close and personal.
"With these updates, the Roval is sure to provide the best show for the fans and the most challenging road course race for drivers," said Marcus Smith, the President and CEO of Speedway Motorsports, Inc. "We've obtained great feedback over the past year from champion drivers including Mario Andretti and Jeff Gordon, and with their help and a collaborative effort with NASCAR, Charlotte Motor Speedway is proud to showcase this brand-new course on the NASCAR schedule. Fans are going to see a thrill show unlike any other when September rolls around and racing comes to the Roval."
The Charlotte Motor Speedway roval will make its debut the last weekend in September (28th-30th) and culminate with the running of the Bank of America 500.
By Rod Mullins /Augusta Free Press