Virginia State Police to honor fallen troopers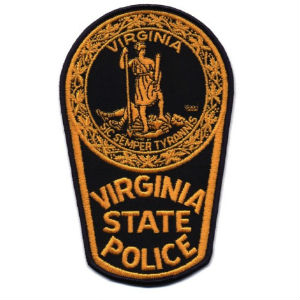 The men and women of the Virginia State Police and their families will gather together Tuesday, May 22, to honor all public safety professionals who have given the ultimate sacrifice in their service to the Commonwealth of Virginia.
During the 2018 Virginia State Police Law Enforcement Memorial Service, special recognition will be given to those Virginia State Police personnel who lost their lives in the line of duty in 2017: Special Agent Michael T. Walter, Lieutenant H. Jay Cullen III, and Trooper-Pilot Berke M.M. Bates. Retired Colonel W. Steven Flaherty will provide the ceremony's keynote address.
A poignant part of the service will be the unveiling and dedication of the portraits for Special Agent Walter, Lt. Cullen and Trooper-Pilot Bates before their families and fellow troopers. Following the ceremony, all three, new portraits will be hung in the Colonel C.W. Woodson Jr. Memorial Gallery located within the Virginia State Police Academy. The gallery already holds the portraits of the state police's other 62 courageous men and women who died in the line-of-duty while serving the citizens of the Commonwealth.
Special Agent Walter was shot and killed in the City of Richmond on May 26, 2017. Lt. Cullen and Trooper-Pilot Bates were killed when their helicopter crashed in Albemarle County on Aug. 12, 2017.
The service will recognize all of the Department's law enforcement professionals who have died in the line of duty, to include a special tribute to the following 15 troopers in which 2018 marks a significant milestone:
 5 Years: Master Trooper Junius A. Walker (2013 – Dinwiddie Co.)
15 Years: Trooper Michael T. Blanton (2003 – Henrico Co.)
20 Years: Trooper Jessica J. Cheney 1998 – Fredericksburg)
25 Years: Trooper Jose M. Cavazos (1993 – Prince William Co.)
30 Years: Trooper Jacqueline Vernon (1988 – Alexandria.)
35 Years: Special Agent Rodney D. Grimes (1983 – Shenandoah Co.)
40 Years: Trooper Robert T. Lohr (1978 – Caroline Co.)
45 Years: Trooper Rannie D. Kennedy (1973 – Spotsylvania Co.)
50 Years: Trooper Warren Y. Harless (1968 – Lee Co.)
55 Years: Trooper Garland M. Miller (1963 – Williamsburg)
65 Years: Trooper Walter S. Parrish (1953 – Fairfax Co.)
70 Years: Trooper Robert E. Caldwell (1948 – Newport News)
75 Years: License Examiner Charles E. Hagerman (1943 – WWII, MIA)
 80 Years: Sergeant Charles W. Puckett (1938 – Russell Co.)
 90 Years: Inspector W. Neville Hatcher (1928 – Culpeper Co.) (Year & Location of Death)
Each tribute includes a single bell toll and an Honor Guard salute.
Comments