Sports
UVA hangs tough, but Johns turnovers costly in 26-13 loss at North Carolina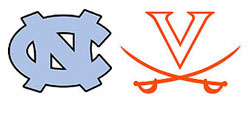 North Carolina, an 18-point favorite, had just a three-point lead on UVA heading into the fourth quarter, but the Cavs could not overcome a series of second-half mistakes in what turned into a 26-13 loss in Chapel Hill on Saturday.
Virginia (2-5, 1-2 ACC) hung with the Tar Heels much longer than anticipated. It was tied at 13 at the half, with Carolina turnovers, two of them, aiding the 'Hoos, who also got their running game going early, gaining 133 yards on 22 attempts in the first half.
But UNC (6-1, 3-0 ACC) clamped down defensively after halftime, limiting Virginia to 31 yards in the third quarter, and intercepting UVA quarterback Matt Johns four times.
The first pick, on the opening drive of the second half, set up a short Nick Weiler field goal that gave Carolina a 16-13 lead with 9:45 to go in the third quarter.
After a 13-play, 93-yard drive ended with an Elijah Hood 3-yard TD run on the first play of the third quarter, Johns drove Virginia to midfield before a third-down pass was intercepted by Malik Simmons, leading to another Weiler field goal that made it 26-13 UNC with 9:07 left.
UVA took its next possession inside the Tar Heels 5 before another drive ended with a Johns interception in the end zone.
The 'Hoos had one last good chance, driving to the UNC 40 before the fourth Johns turnover of the second half, a fumble on a sack.
Johns threw one last interception in the final minute.