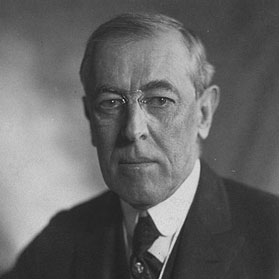 The Woodrow Wilson Presidential Library and Museum announced the launch of Blue Star Museums, a collaboration among the National Endowment for the Arts, Blue Star Families, the Department of Defense, and more than 2,000 museums across America to offer free admission to the nation's active duty military personnel including National Guard and Reserve and their families from Memorial Day through Labor Day 2014.
Leadership support has been provided by MetLife Foundation through Blue Star Families.  The program provides families an opportunity to enjoy the nation's cultural heritage and learn more about their new communities after a military move.  The complete list of participating museums is available at arts.gov/national/blue-star-museums.
"As we kick off our fifth year of participation in the Blue Star Museum program," said Don Wilson CEO of the Woodrow Wilson Presidential Library, "we continue to be proud of the help we've provided in connecting military families across the country with the life and legacy of Woodrow Wilson.  We are thrilled with the continued growth of the program and the unparalleled opportunities it offers."
The Woodrow Wilson Presidential Library and Museum in historic Staunton, Virginia offers a variety of experiences for visitors of all ages.  Retrace the inspiring journey of our 28th president as you take a self-guided tour through seven galleries which explore Wilson's early years, his eventful presidency, suffrage, prohibition, and World War I.  Also, enjoy an engaging guided tour of President Wilson's birthplace an authentic example of a Shenandoah Valley home during the pre-Civil War era, a beautifully restored Greek Revival manse, where you will experience what life was like when he was born there in1856.  Discover the life and legacy of Woodrow Wilson at this National Historic Landmark.