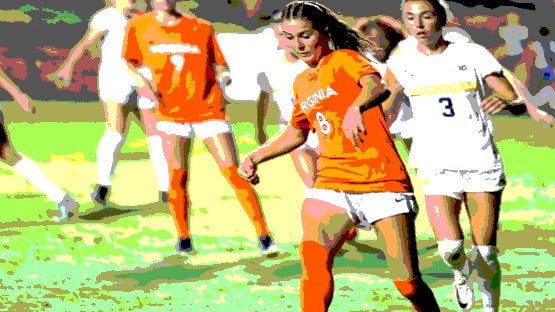 Fifth-ranked UVA had the edge in chances, but ended up in a 0-0 draw with Michigan on Thursday night at Klöckner Stadium.
The Cavaliers (2-0-1) had the advantage in the first half, tallying seven shots with two on frame to only four shots and one on frame for the Wolverines (0-1-2).
Virginia had a pair of shots by Yuna McCormack and Talia Staude blocked in the 22nd minute. The Cavaliers were then turned away tice more as shots by Alexis Theoret in the 26th minute and Maggie Cagle in the 41st minute were saved.
The second half saw the Cavaliers again get more chances with a seven-shot advantage, but the one shot from the Wolverines was a dangerous one.
In the final minute, Michigan's Kali Burrell got a one-on-one chance. As she drove toward goal, Virginia keeper Cayla White charged out to meet her and made the sliding block of Burrell's shot to preserve the shutout.
"Michigan was organized and battled really hard," UVA coach Steve Swanson said. "We were lacking quality, especially in the attacking end. We got some chances, but not enough to get a result. There are tons of things we can take away from this game, and I am confident we will."
Game Notes
Cayla White picked up her 13th career shutout as she tallied the clean sheet for the Hoos.
White is now 21-4-4 in goal for the Cavaliers.
The Hoos are now 1-0-1 all-time against Michigan with both contests coming at Klöckner Stadium.
The shutout was the third straight for Virginia this season.