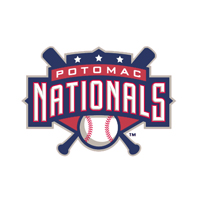 The Potomac Nationals (15-10, 8-6) could not rally back to beat the Winston-Salem Dash (10-16, 5-9) in Game Three on Saturday night at BB&T Ballpark after the home club scored six runs in the bottom of the 2nd inning. The Dash inevitably beat the P-Nats by the final score of 9-5.
Winston-Salem pounded out 10 hits and collected a quartet of two-out RBIs.
The Nationals attempted to secure a winning streak inside the confines of BB&T Ballpark for the first time since 2010, the inaugural season for Winston-Salem's stadium, but their efforts fell well short after Potomac took Game Two.
The winning pitcher, Dash RHP Mike Recchia (3-2) dealt 5.0 frames and allowed three earned runs on five base hits while walking two and fanning six.
Nationals LHP Brett Mooneyham (2-2) was hit with his second loss of the 2014 campaign after surrendering seven runs, three earned, on five hits while walking three.
The Dash scored the first run of the game in the 1st inning when 1B Keon Barnum singled into left field to bring home CF Jacob May, who whipped a single into left center field to reach base.
In the 2nd stanza, Winston-Salem waited out the wildness of Mooneyham and produced six runs on three hits and one error. Back-to-back RBI walks for DH Adam Heisler and May led to RBI fielder's choice groundballs off the sticks of 2B Joey DeMichele and RF Jason Coats (which came off RHP Brian Dupra). LF Grant Buckner socked a run-scoring single up the middle and after reaching, Buckner intentionally got in a rundown between first and second base which allowed Coats to break to home plate and give Winston-Salem a 7-0 lead.
Mooneyham went just 1.1 innings and allowed seven runs, three earned, on five hits while walking three batters.
Dupra pitched 4.2 innings of long relief and gave up just two earned runs on four hits. Dupra walked one and struck out a trio of hitters.
Potomac plated a trio of runs off Recchia to yield a 7-3 score in the 5th inning via a two-run triple cranked to the gap in left center field off the lumber of LF Randolph Oduber before SS Stephen Perez laced a softly served RBI single into right field.
In the home half of the 5th inning, RBI doubles in succession off Dupra from C Martin Medina and SS Michael Johnson to the left field corner and the alleyway in left center, respectively, put the Dash up 9-3.
Nationals LHP Bryan Harper gunned through 2.0 scoreless innings and gave up just one hit and struck out a pair.
Winston-Salem LHP Jefferson Olacio and LHP Sean Hagan combined for 3.0 innings hurled with no runs allowed.
Dash RHP Brad Goldberg allowed two earned runs in the 9th as the Nationals snapped off a string of three straight doubles fromC Cole Leonida, 3B Adrian Sanchez, and RF Justin Miller. Leonida banged a Goldberg offering into the left center field barrier, while Sanchez and Miller went to the left field corner.
Earlier in the contest, Sanchez extended his hitting streak to nine games which matches 1B Kevin Keyes' season-long mark. Keyes has since been promoted to Double-A Harrisburg.
For the P-Nats it was too little, too late and Oduber popped out in foul territory to Barnum along the first base line to ink the "W" for Winston-Salem.
Tomorrow afternoon at 2:00pm, the Nationals and Dash will clash for the Game Four finale with Winston-Salem owning a two games to one advantage.
Potomac throws RHP Dakota Bacus (1-1, 2.08) against Dash RHP J.D. Wendelken (3-1, 3.81) in the matinee showdown.
The Potomac Nationals Baseball Network, which is accessible at www.potomacnationals.com, will broadcast Game Four on Sunday afternoon beginning with the P-Nats Leadoff Show at 1:45pm before the live play-by-play at 2:00pm.