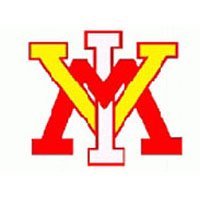 VMI first baseman Collin Fleischer was voted Second Team All-SoCon by the media, while Josh Winder and Matt Pita earned All-Freshman team honors as the SoCon baseball postseason awards were announced Monday morning.
Fleischer follows up his all-freshman honor last season with his first career all-conference honor. He finished the regular season hitting .300 with 15 home runs and 46 RBI. The 15 home runs stand as the third-most in VMI history and rank in a tie for sixth in the conference, while his 120 total bases are among the top-10 in VMI single-season annals as well.
Pita finished the year strongly, going 6 for 12, including his first career multi-homer game, in the final regular season series against Samford. His .607 slugging percentage ranked ninth in the league during the regular season, and of course, he narrowly missed becoming just the third player to post two cycles in a single season during the month of March.
Winder, who will make the start in VMI's conference tournament opener Tuesday against The Citadel, finished the year 4-4 with a 5.08 ERA. He had a strikeout to walk ratio of better than 4 to 1, and his 10-inning effort in an early season game against Binghamton was the longest outing by a Keydet pitcher in the aluminum bat era.
VMI baseball and its three honorees will open the 2016 SoCon Tournament Tuesday at 10 a.m., when the #9 Keydets face #8 The Citadel in Greenville, S.C.
2016 SoCon Baseball All-Southern Conference Team
Player of the Year – Kyle Lewis, Jr., OF, Mercer
Pitcher of the Year – Will Gaddis, So., RHP, Furman
Freshman of the Year – Jabari Richards, OF, Furman
Coach of the Year – Link Jarrett, UNCG
First team
SP Will Gaddis, Furman
SP Parker Curry, Samford
RP Andrew Wantz, UNCG
C Hagen Owenby, ETSU
1B Matt Smith, Western Carolina
2B Trey York, ETSU
SS Matt Meeder, Mercer
3B Collin Woody, UNCG
OF Kyle Lewis, Mercer
OF L.J. Kalawaia, UNCG
OF Heath Quinn, Samford
DH Austin Edens, Samford
Second team
SP Ryan Askew, Mercer
SP Matt Milburn, Wofford
RP Colton Davis, Western Carolina
C Danny Bermudez, Western Carolina
1B Alex Lee, Samford
2B Ben Spitznagel, UNCG
SS Derek Hirsch, Wofford
3B Blake Rowlett, ETSU
OF Trey Truitt, Mercer
OF Bryson Bowman, Western Carolina
OF Kramer Ferrell, Western Carolina
DH Dillon Stewart, UNCG
All-Freshman team
Ben Peden, The Citadel
Jake Crawford, Furman
Jabari Richards, Furman
Conard Broom, Mercer
Kevin Coulter, Mercer
Matt Frisbee, UNCG
Andrew Moritz, UNCG
Cesar Trejo, UNCG
Stephen Jones, Samford
Matt Pita, VMI
Josh Winder, VMI
Andrew Bullock, Western Carolina
2016 SoCon Sports Media Association Baseball All-Conference
Player of the Year – Kyle Lewis, Jr., OF, Mercer
Pitchers of the Year – Will Gaddis, So., RHP, Furman
Andrew Wantz, So., RHP, UNCG
Freshman of the Year – Jabari Richards, OF, Furman
Coach of the Year – Link Jarrett, UNCG
First team
SP Will Gaddis, Furman
SP Parker Curry, Samford
RP Andrew Wantz, UNCG
C Hagen Owenby, ETSU
1B Matt Smith, Western Carolina
2B Trey York, ETSU
SS Matt Meeder, Mercer
3B Collin Woody, UNCG
OF Kyle Lewis, Mercer
OF L.J. Kalawaia, UNCG
OF Heath Quinn, Samford
DH Austin Edens, Samford
Second team
SP Ryan Askew, Mercer
SP Matt Milburn, Wofford
RP Will Stillman, Wofford
C Danny Bermudez, Western Carolina
1B Collin Fleischer, VMI
2B Ben Spitznagel, UNCG
SS Robby McCabe, ETSU
3B Blake Rowlett, ETSU
OF Jabari Richards, Furman
OF Trey Truitt, Mercer
OF Bryson Bowman, Western Carolina
DH Dillon Stewart, UNCG