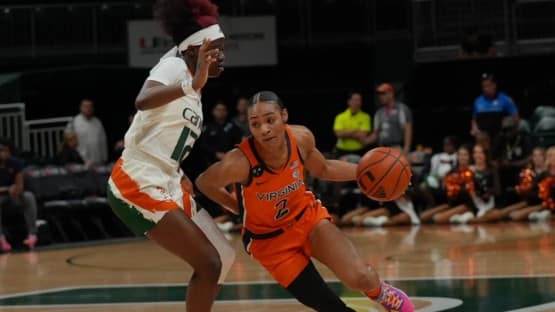 Miami got out to a 10-point lead at the half, and held on late to post an 85-74 win over Virginia in the teams' regular-season finale in Coral Gables on Sunday.
Virginia (15-14, 4-14 ACC) dressed only six players for the game, which if you needed to know, the rash of injuries is why the Cavaliers stumbled down the stretch after the 12-0 start in the season's first two months.
Miami (18-11, 11-7 ACC) led most of the way, but UVA was able to hang tight, closing as close as seven points, at 67-60, on an and-one from Taylor Valladay at the end of the third quarter.
"We been through a lot of adversity. I typically don't believe in moral victories. I want to win. I'm competitive, and so is my team. But I'm proud of the fight that we showed today," UVA coach Amaka Agugua-Hamilton said. "I'm proud that we were able to compete for 40 minutes with all the adversity, low numbers, and barriers that were put in our way. So, this is something that we can build on for the ACC tournament."
Camryn Taylor had her fifth 20-point game of the season with 21 points and seven rebounds. Valladay scored 16 points with six assists. McKenna Dale scored 14 points, going 6-of-8 from the field including making two of three three-point attempts. Cady Pauley came off the bench to score 12 points, matching her career high.
Destiny Harden led Miami with 20 points and 11 rebounds. Hanna Cavinder went 5-of-7 from three-point range for 15 points. Kyla Oldacre scored 19 points on 9-of-11 shooting.