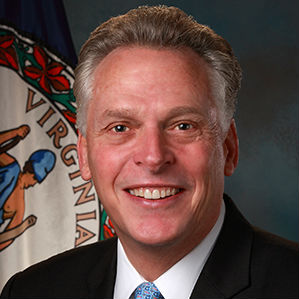 Governor Terry McAuliffe on Wednesday signed executive order 23: The New Virginia Economy Workforce Initiative, which establishes an ambitious new plan to help better prepare Virginian's for a new and diversifying economy.
This executive order will help ensure more members of Virginia's workforce have the skills they need to succeed. This initiative will help overhaul our economy in four ways: increasing postsecondary education and workforce credentials, securing employment for veterans, aligning education with the needs of businesses, and diversifying the economy.
This executive order has received praise from leaders across the Commonwealth:
Senator Don McEachin, Henrico:
"I am very pleased and proud to accompany the governor as he introduces these critical initiatives that will create a stronger, better skilled workforce, improve economic development and help our citizens get jobs. When Virginians are employed, our communities are strengthened."
Delegate Steve Landes, Augusta:
"I am encouraged by Governor McAuliffe's announcement today to make Virginia's workforce more competitive, and for Virginia to be better able to coordinate and measure our workforce assets across the Commonwealth. I am confident that the Members of the General Assembly will work with the Governor on his workforce initiatives to help grow the job opportunities for our citizens."
Senator Frank Ruff, Mecklenburg:
"I applaud Governor McAuliffe for improving this important process and I look forward to working with him to streamline our workforce development system to better prepare our workers to do the jobs that are available today, and to lead Virginia into the economy of tomorrow."
Barry DuVal, President & CEO, Virginia Chamber of Commerce:
"This initiative will help meet the workforce needs of a growing and diverse economy in the Commonwealth and is consistent with the goals outlined in Blueprint Virginia where workforce development is the number one priority."
Delegate Kathy Byron, Bedford:
"Demonstrating his commitment to workforce development, Governor McAuliffe's Workforce Initiative takes a comprehensive approach to addressing a critical challenge. Having worked on this issue for many years, I am grateful for the Governor's leadership in prioritizing workforce training and development. I look forward to continue working with Governor McAuliffe to ensure Virginia's workers have the skills they need to succeed as we grow and diversify our economy."
Senator John Edwards, Roanoke City:
"A well developed workforce is absolutely critical to the economic health of our Commonwealth. I am grateful to Governor McAuliffe for his leadership and emphasis on this important issue."
Senator Bryce Reeves, Spotsylvania:
"No state in the nation has a more talented and dedicated workforce than Virginia does. But succeeding in a competitive global economy requires taking the next step to educate and train our workers as quickly and effectively as possible. Reforming workforce development is a bipartisan mission that will create opportunity for the families we serve, grow our economy and make us better stewards of taxpayer dollars.  We will only accomplish these initiatives through a measured, data and results driven process that combines synergy from both the private and public sectors."
Senator Bill Stanley, Franklin County:
"Growing Virginia's economy means creating new jobs, and it must be our first priority to make available to our citizens who are out of work with the training they will need to get quality, good paying jobs that are available both now and in the future.  I applaud Governor McAuliffe's workforce development plan as an excellent first step in providing Virginians with the skills and training that they will need for great careers in Southside, Southwest and in every region of the Commonwealth."
Delegate Matthew James, Portsmouth:
"Workforce development is the central piece of our effort to grow and diversify Virginia's economy. Governor McAuliffe is tackling this issue with his characteristic energy and problem solving abilities. I commend him and his team for all the hard work they are doing to prepare Virginians for the high paying jobs of the future."
Delegate Ron Villanueva, Virginia Beach:
"Governor McAuliffe has focused his leadership on creating jobs and economic growth. Our small businesses and diverse workforce continue to position Virginia as one of the top states to do business.  I look forward to working with the Governor and his administration to create opportunities that will help all Virginians."
Delegate Glenn Davis, Virginia Beach:
"In business, we often say 'what gets measured gets done.' I am glad that Governor McAuliffe is using that approach to Virginia's workforce development system with today's executive order.  I campaigned on expanding job creation, and success requires effective strategies, strong partnerships, and accountable results. By setting real measurable goals to increase the credentials we award the veterans who find employment and the companies that agree to hire veterans, this executive order lays a foundation for a bipartisan push to improve how Virginia serves workers and students of every age and skill set."
Delegate Scott Taylor, Virginia Beach:
"Reforming and improving Virginia's workforce development system is one of the most important steps we can take to grow our economy and create the next generation of Virginia jobs in a globalized world. Governor McAuliffe's executive order sets concrete goals for improving Virginia's approach to education and training, I am ready to roll up my sleeves and work on bipartisan solutions to meet and exceed these goals together".