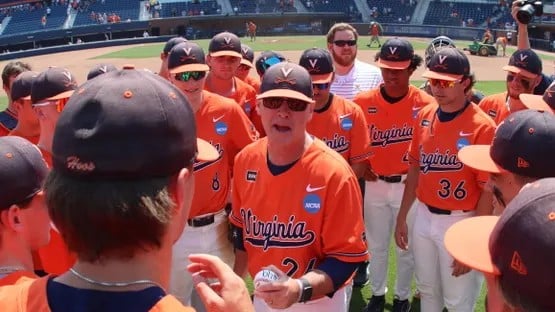 Griff O'Ferrall hit his first homer of the season to lead off the game, setting the tone for #7 Virginia, which went on to even the Charlottesville Super Regional at a game apiece with a 14-4 win over Duke on Saturday at The Dish.
The UVA win sets up a deciding Game 3 for Sunday at noon.
The winner gets a spot in the eight-team College World Series that begins next week in Omaha.
The big hit of the day on Saturday came in the fifth, when Ethan Anderson hit a moon shot to right for a three-run homer off Duke reliever Adam Boucher, just after Duke had rallied for three runs in the fourth to get to within a run, at 4-3.
The Anderson shot, and an Andrew Stephan homer later in the top of the fifth, made it 8-3 Virginia.
Jake Gelof, who just missed ending Game 1 with a walk-off homer, flying out to the fence in left-center with two outs in the ninth in the 5-4 Duke win, extended the UVA lead with a two-run double to left-center in the sixth, and hit one out of The Dish past the Hoo Zone in left to make it 12-3 in the top of the eighth.
Gelof was 3-for-5 on the day for Virginia, which got seven innings from starter Connelly Early, who gave up three runs, all in the fourth, on nine hits, striking out eight without issuing a free pass, on 107 pitches.
The depth that Early was able to provide should set up the Virginia staff well for the deciding Game 3.
Virginia will send out staff ace Brian Edgington (8-3, 3.64 ERA) for the Super Regionals finale.