The Molina Foundation has awarded a grant of 50,000 new children's books ― enough to fill a library shelf nearly half-a-mile long ― to Virginia 4-H.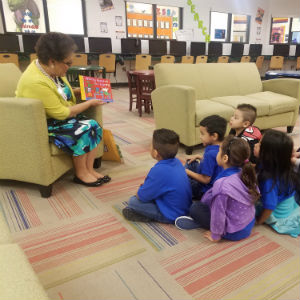 The pleasure-reading books, activity books, and workbooks will help provide critical education resources to children and families across the state. The books arrived by truck last week for distribution in Blacksburg, Abingdon, Richmond, Roanoke, Waynesboro, and Williamsburg.
Virginia 4-H will give the books that cover a range of grades and age levels to participants in  4-H and other Virginia Cooperative Extension programs and the Virginia Tech College Access Collaborative. Books will also be available through a diversity of local community groups that partner with Virginia Cooperative Extension, such as recreation centers, food banks, faith-based organizations, and after-school programs. The goal is to provide books to low-income families and at-risk communities.
The Molina Foundation, based in Long Beach, California, awarded the Books Across Virginia grant as part of its summertime literacy initiative taking place in select regions of the country. The initiative is designed to promote back-to-school learning and help combat the "summer slide," where students lose academic ground over the break. Students can drop an average of two to three months in reading and math skills — a loss that can significantly impact their future academic and economic success.
The 50,000-book grant has a total estimated value of $400,000.
Virginia ranks 31st nationally in the percentage of residents with at least a high school equivalency credential, according to the Rural Horseshoe Initiative. Draw a line from Virginia's Eastern Shore, westward across Southside to Southwest Virginia, and then up the Shenandoah Valley, and you would trace an arc that represents 75 percent of the commonwealth's geography. This "Rural Horseshoe" is home to 2.1 million Virginians. In the Horseshoe, more than half-a-million people have less than a high school education. Many children in this area come from families that cannot afford books and do not have transportation to libraries. Having books in the home has been proven to improve a child's reading performance, cause children to read more and for longer lengths of time, and produce improved attitudes toward reading and learning among children.
"This book grant is a wonderful way to honor the continued good work of Virginia 4-H," said foundation president and founder Martha Bernadett.  "We believe in how they provide children and families across the state with valuable learning programs, resources, and opportunities. We are thrilled to support their efforts and happy to know these books and learning materials can help them in their mission."
"Books Across Virginia is a very worthwhile effort that is very much in alignment with what we do," said Cathy Sutphin, associate director of Virginia 4-H.  "We are pleased to partner with the Molina Foundation. We believe there is something special about making sure that books and reading are part of every child's life. These books will help tens of thousands of Virginia kids get a good start to lifelong learning and success."
Arrangements for the grant delivery were made in close partnership with Extension program administrators at the Virginia Tech College of Agriculture and Life Sciences. Roanoke-based Lawrence Transportation Systems served as the grant's official trucker and local corporate supporter.
Virginia 4-H is part of Virginia Cooperative Extension, which provides research-based programs and services to support local agriculture, businesses, and communities across the state. Virginia 4-H has over 240,000 members statewide. To learn more about the opportunities available to youth through 4-H, contact your local Virginia Cooperative Extension Office.
The Molina Foundation is a national nonprofit organization. Since its inception in 2004, it has partnered with more than 2,000 organizations and schools around the country to promote literacy and wellness. In addition, it has donated more than 5 million new children's books in English and Spanish and hosted hundreds of free workshops and programs for educators, families, and children.