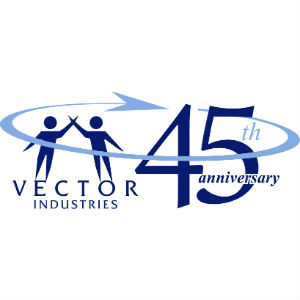 Vector Industries is marking its 45th year in operations with a series of events in October inviting the community to learn more about the unique non-profit business.
"We want the community to be able to come to Vector to see for themselves what we can do to provide value to local business and industry," said Chrissy Johnston, the chief executive officer at Vector Industries, which employs and trains persons with diverse disabilities to enable them to reach their potential as productive community members.
The 45th anniversary events include a services fair for employees, a family forum, a special customer appreciation day, and tours for local elected officials, economic development officials and service organizations.
There will also be an event opening the Vector Industries operations center on Fairfax Avenue in Waynesboro to the public for tours.
"We invite the community to take part in our celebration and to see what these amazing people do every day," Johnston said.
45th Anniversary Calendar of Events

"The Significance of our Organization"
October 2: A special event for our elected officials and economic development partners

"Agency Gratitude"
October 9: A special event recognizing the hard work of all of the agencies that depend on Vector

"Employee Forum"
October 16: A special day for employees, families and caregivers to interact with staff and service providers

"Customer Celebration Day"
October 23: A special ceremony to recognize area businesses that support Vector Industries

"Community Open House Day"
October 30: A designated day for the community to tour Vector

More online at www.VectorIndustries.org.