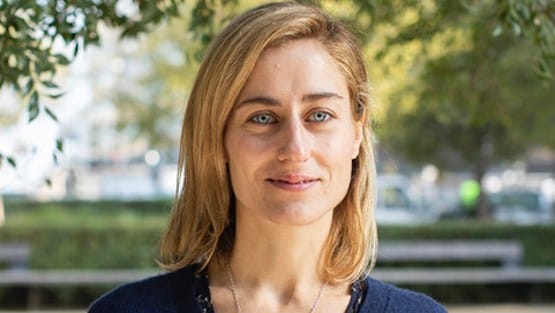 Dr. Mariza Daras became the new chief of the division of neuro-oncology at VCU Massey Cancer Center and the Department of Neurology at VCU School of Medicine as of today.
"I'm excited to help develop a program that serves Richmond's diverse community and provides care that will help brain tumor patients live better and longer," Daras said.
Previously associate professor of neurology in the division of neuro-oncology at UC San Francisco, treating patients at its Brain Tumor Center, Daras earned her medical degree from Columbia University and completed her neurology residency at Duke University Medical Center, followed by a neuro-oncology fellowship at Memorial Sloan Kettering Cancer Center.
She specializes in the care of patients with a diagnosis of a primary brain tumor, including glioblastoma, meningioma and low-grade glioma. She also treats patients with metastases that have spread to the brain or central nervous system from other areas of the body.
"We're thrilled to have Dr. Daras's expertise and leadership in growing a clinical translational and research program that meets the complex needs of patients with brain and other central nervous system tumors," Dr. Paula Fracasso, Massey's deputy director and senior vice president of the cancer service line at VCU Health, said. "She brings a collaborative approach that will strengthen our multi-disciplinary services and improve patient access and care."
Daras is a member of the American Academy of Neurology (AAN), Society for Neuro-Oncology and American Society of Clinical Oncology. She is an appointed member of AAN's Committee on Public Engagement, dedicated to diversifying the neuro-oncology workforce, a perspective that she also applies to patient care.
"It's important to advocate for patients to have access to clinical trials and novel therapies," Daras said. "Clinical trials for patients with brain tumors haven't always included people most affected. I'm excited to be part of a growing effort to design more inclusive trials that are representative of everyone in our community and can better inform the real-world treatment of patients."
Dr. Gordon Smith, professor and chair of the Department of Neurology at the VCU School of Medicine, said Daras is nationally known for her passion about ensuring that every patient with a brain tumor has access to the highest quality care, including experimental therapies.
"Her collaborative and humanistic approach to health care will serve our community and the commonwealth well. I couldn't be more excited to welcome her VCU," Smith said.