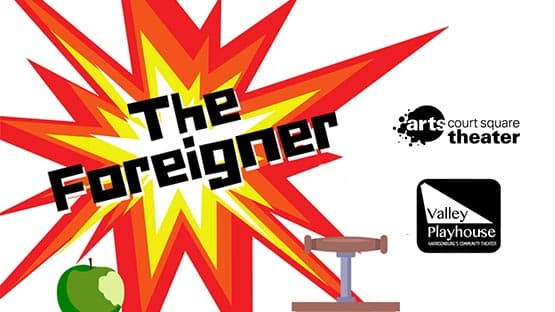 Valley Playhouse is returning to Court Square Theater with the comedy classic, The Foreigner, running March 23-April 2.
Directed by Stephen Winegard, Larry Shue's play is set in a fishing lodge in rural Georgia. British demolitions expert "Froggy" passes off his pathologically shy friend Charlie as a non-English-speaking visitor from an exotic foreign country.
Two villains, a sinister minister and his backwoods sidekick, freely discuss their dastardly plans and other damaging revelations in front of Charlie – thinking he doesn't understand a word they're saying.
Charlie shares the inside story with Froggy and things go uproariously awry for the "bad guys," leading to a wildly funny victory by our heroes.
The Foreigner features Buddy Garrison as Charlie Baker and Scott Lunsford as Froggy LeSuer; joined by Terry Southerington, Jenny Howard, Laura Pyle, Sam Kauffman and Michael Lafferty.
Gail Arthur and Claire Wayman are co-producers.
Performances are Thursday-Saturday, March 23-25 and March 30-April 1 at 7:30 p.m.; with matinee showings on Sunday, March 26 and April 2 at 3 p.m.
Doors open 30 minutes prior to each performance.
Advance adult tickets are $15 ($17 at door); advance senior/student tickets are $13 ($15 at door).
March 30 is "Pay What You Will" night, with at-door cash sales only.
Tickets are available at courtsquaretheater.org or by calling the box office at (540) 433-9189.
Court Square Theater is located at 41-F Court Square in downtown Harrisonburg,