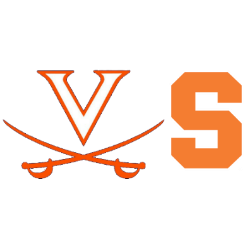 The sixth-seeded Virginia women's lacrosse team (12-8) faces second-seeded Syracuse (20-2) on Friday, May 23 at 5 p.m. in the semifinals of the 2014 NCAA Women's Lacrosse National Championships at Johnny Unitas Stadium in Towson, Maryland. Live streaming video of the game will be available to watch online on ESPN3.
The winner of Friday's contest will advance to the NCAA national championship game on Sunday, May 25 at 8:30 p.m., taking on the winner of Friday night's second semifinal game between top-seeded Maryland (20-1) and fifth-seeded Northwestern (13-6).
Virginia is making its 14th NCAA semifinal appearance in program history, and its first since 2007. This is the Cavaliers' eighth trip to the semifinals under head coach Julie Myers. The Cavaliers are playing in their 19th-consecutive NCAA Tournament, all under head coach Julie Myers, and their 27th overall NCAA Tournament appearance. The Orange are making their third-straight semifinal appearance and their fifth in the last seven years.
Virginia owns an 11-5 edge in the series, but this is the first-ever postseason meeting between the two teams. Syracuse won the 2014 regular-season contest, held on February 23 in Charlottesville, 18-14. Junior Courtney Swan (Vero Beach, Fla.) won 10 draw controls in the game while contributing six points with four goals and two assists.
After starting the 2014 season 4-6, Virginia has won eight of its last ten games, including victories over No. 9 Notre Dame, No. 6 Boston College, No. 7 Duke and No. 4 North Carolina. The Cavaliers' two losses during that span have come against the NCAA Tournament's top-seed, Maryland. Syracuse won 20 games this season, the most in program history, with its only two losses coming against Maryland.
Syracuse has a pair of 2014 Tewaaraton Award finalists on their team. Also a 2013 Tewaaraton Award finalist, attacker Alyssa Murray became just the second player in Orange history to record 300 points, 200 goals and 100 assists in her career. Her 97 points rank fifth in the country, and she currently sits in the nation's top 20 in points per game, goals, assists and assists per game.
The nation's leading scorer with 107 points (73 goals, 34 assists), attacker Kayla Treanor was named ACC Offensive Player of the Year, All-ACC First Team and ACC All-Tournament Team. Her 70 goals are good for second-best in the nation. She is a member of the U.S. Women's National Team.
Syracuse is fifth in the nation, averaging 14.67 goals per game, and leads all Division I teams with 455 points. Virginia is 12th in both goals per game (13.3) and total points (373). Syracuse has scored 188 first-half goals while allowing opponents to 79 in the opening period. Virginia outscores opponents 131-109 in the first half.
national championship weekend will be something of a homecoming for many of the Cavaliers. Twelve of Virginia's 27 players hail from the state of Maryland with five players listing Baltimore as their hometown (Caroline Seats, Posey Valis, Daniela Eppler and Brooke and Kelly Boyd). Three players, including starting defender Kelsey Gahan and starting goalkeeper Liz Colgan, are from Cockeysville, which is located eight miles north of Towson.
Junior Casey Bocklet (South Salem, N.Y.) is the only Cavalier player with NCAA lacrosse semifinal experience. Bocklet was a member of the 2012 NCAA Champion Northwestern squad in her freshman season before transferring to Virginia as a sophomore. Bocklet, who scored two goals with three assists in the victory over UNC, is tied for the team lead with 28 assists.
Senior Liza Blue (Butler, Md.), who was named to the IWLCA All-America Third Team this week, has seven points (5 goals, 2 assists) with eight draw controls in the NCAA Tournament. In the four games since the end of the regular season, Blue has 13 points (11 goals, two assists) with 14 draw controls. Blue leads the team with 55 goals and is second in points (65) and draw controls (56). Blue ranks fifth in the ACC in goals per game (2.75) and 14th in points per game (3.25).
Senior captain Maddy Keeshan (Greewich, Conn.), a second-team all-region honoree, has scored five goals in the NCAA Tournament on seven shots. Keeshan has a career-best 36 points this season with 32 goals and four assists.
Junior Daniela Eppler (Baltimore, Md.) has eight ground balls in the NCAA Tournament and 14 since the end of the regular season. Eppler is tied for 10th in the ACC with 1.80 ground balls per game. Eppler is also contributing on the offensive end, though she did have a five-game goal-scoring and an eight-game point streak snapped against North Carolina. Eppler has scored nine goals with three assists this season.
Senior Liz Colgan (Cockeysville, Md.) was named to the IWLCA All-America First Team this week, the first Virginia player to earn first-team honors since 2010 and the first Cavalier goalkeeper to be named to the first team since 1996. Colgan ranks third in the nation with 195 saves this season. Colgan needs five saves to become the fourth player in Virginia history to log 200 saves in a season. Colgan made nine stops in the victory over UNC, including making six saves in the second half.