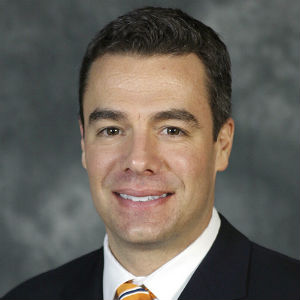 The only drama in the 81-45 win for top seed UVA over Hampton in the first round of the 2016 NCAA Tournament was the health of coach Tony Bennett.
Bennet collapsed late in the first half as the Cavs were closing out a 20-3 run to take a 40-21 lead into the locker room.
Senior forward Anthony Gill had just made a bucket and had gotten fouled, and as the officials were dealing with that at the scorer's table, Bennett had motioned to point guard London Perrantes to talk strategy.
As Perrantes approached, Bennett, in a crouch, tried to stand up, apparently did so too quickly, and collapsed back onto his heels.
Bennett left the floor as the final seconds wound down toward halftime. He said after the game that he was fine, even if he wasn't fully aware that he had the entirety of Wahoo Nation praying for him.
"I think I've just been a little under the weather the last couple of days, and I think I was a bit dehydrated, and when you're squatting down and get up quick, I just grayed out or blacked out a little bit," said Bennett, who has "had more Powerade than I've ever had in my life right now."
"I'm hopefully hydrated well and it was — yeah. That's happened before where you get up quick and been a little dizzy, but I don't know. It just happened kind of quick, and was just a little off sorts. Maybe being a little under the weather was what played into that."
A picture circulated on social media with Gill standing over Bennett, a concerned look on his face, his hand on Bennett's shoulder, in prayer.
"I didn't know what was going on," said Gill, who had a game-high 19 points and seven rebounds for Virginia on Thursday. "And I was praying just to make sure he was okay. Yeah. It worked; I healed him."
Bennett coached the second half from a chair in front of the scorer's table inside the coach's box. He's not normally known for working the sidelines as actively as some of his brethren, so it wasn't that much an encumbrance.
"They told me to sit there and drink Powerade," Bennett said. "Thankfully the game wasn't close in the second half. Yeah, usually you like to be kind of active and involved. I guess it shows you that coaching is overrated. I don't think they know it's overrated. You can sit on your hands and they wouldn't notice if you're active. That's just for coaches to feel good, I think."
At the end of the day, Bennett's focus is where it needs to be: on the next opponent, Butler. His health is not a concern heading into the weekend.
"Being a little under the weather, I'm sure that's all it was," Bennett said. "I don't think it's anything too serious, a little more embarrassing than anything. It is what it is. I'm sure I'll get teased about it but we'll move on."
Story by Chris Graham