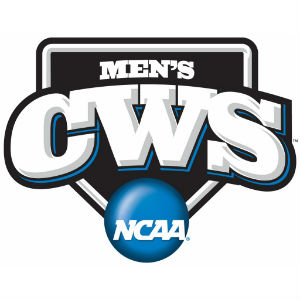 The UVA baseball team evened its best-of-three series against Vanderbilt with a 7-2 victory in Game Two of the 2014 Men's College World Series Finals on Tuesday (June 24) at TD Ameritrade Park Omaha.
The Cavaliers (53-15) and Commodores (50-21) will play for the national championship on Wednesday (June 25) at 8 p.m. ET. The game will be televised on ESPN. Both teams are vying for their first national title.
"I really couldn't be more proud of our club [and how they played] facing elimination, facing the end of the season," Virginia head coach Brian O'Connor said. "Now it all comes down to tomorrow night. I know our guys will come out and play loose and aggressive like they have this entire postseason. I'm looking forward to seeing them come out and compete tomorrow night."
Virginia bounced back from a 9-8 loss in Monday night's opening of the series to tie the series behind a dominant pitching performance by sophomore left-hander Brandon Waddell (Houston, Texas). Waddell (10-3), in the first nine-inning complete game of his career, allowed two runs (one earned) on five hits, walking three and striking out five.
"Brandon Waddell was just terrific," O'Connor said. "It seemed that after the first four innings, he really settled in, did a terrific job of mixing all of his pitches and keeping their hitters off balance. And certainly we had another really good offensive night."
Waddell's complete game was the first thrown by a Cavalier in the NCAA tournament since Will Roberts pitched a shutout against Navy in the 2011 Charlottesville Regional. It was the first complete game ever thrown by a UVa pitcher in the College World Series.
Kenny Towns (Jr., Burke, Va.) finished the game 3-for-5 with a pair of runs batted in. Joe McCarthy (So., Scranton, Pa.) was also 3-for-5 with two runs scored and an RBI.
The Cavaliers combined for 13 hits, their second-straight game with double-digit hits. Four of Virginia's seven runs were scored with two outs in the inning. In the first two games CWS Finals, nine of Virginia's 15 runs have scored with two outs.
Vanderbilt starter Tyler Beede (8-8) took the loss after allowing six earned runs, 10 hits and three walks in 6.2 innings.
Trailing 1-0 in the top of the third, junior center fielder Brandon Downes (South Plainfield, N.J.) legged out an infield single that had deflected off Beede. Sophomore catcher Robbie Coman (Lake Worth, Fla.) singled through the left side, advancing Downes to third. Junior second baseman Branden Cogswell (Ballston Lake, N.Y.) bunted a pitch that rolled down the first-base line, allowing Downes to score from third, tying the game 1-1.
Vanderbilt scored in the bottom of the fourth after a leadoff two-base error followed by a double to left-center by John Norwood that plated a run before the Cavaliers recorded an out. Waddell buckled down and struck out Rhett Wiseman and then picked off Norwood before striking out Chris Harvey to get out of the fourth only trailing 2-1.
Virginia took its first lead of the game in the top of the sixth, scoring three runs on four hits including a two-out, two-run, stand-up triple from Downes. Senior first baseman Mike Papi (Tunkhannock, Pa.) smacked the first pitch of the inning to right field for a single, and advanced to third on a hit-and-run single to right off the bat of sophomore right fielder Joe McCarthy (Scranton, Pa.). Papi scored on a groundout to second base off the bat of junior left fielder Derek Fisher (Rexmont, Pa.) to tie the game, 2-2.
After Towns singled sharply to left to load the bases, junior designated hitter John La Prise (So., Exton, Pa.) grounded out to bring home Fisher. Downes then launched a blast to center which caromed off the outstretched glove of Norwood for a triple, plating Towns for a 4-2 lead.
With the bases loaded and two outs in the seventh inning, Towns singled through the left side of the infield to drive in two more runs, giving Virginia a 6-2 lead at the stretch.  Virginia added an insurance run in the top of the n