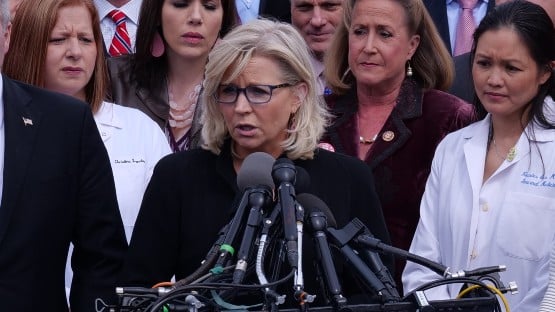 Liz Cheney, who stood up to Donald Trump, and lost her congressional seat for it, will finish out her first year out of office as a professor at the UVA Center for Politics.
Cheney was one of two Republicans to serve on the House Jan. 6 Committee that investigated the attempt by Trump to overturn the results of the 2020 presidential election, and was one of 10 Republicans who voted to impeach Trump for his role in leading what was effectively a failed coup d'etat.
A frequent Trump target as a result of her stands of conscience, Cheney was defeated in a landslide by a Trump-worshipping election-denier in her bid to be re-nominated by the Republican Party in Wyoming in a 2022 primary.
"With democracy under fire in this country and elsewhere around the world, Liz Cheney serves as a model of political courage and leadership," UVA Center for Politics Director Larry J. Sabato said. "Liz will send a compelling message to students about integrity. She's a true profile in courage, and she was willing to pay the price for her principles — and democracy itself."
Cheney is joining the faculty at the UVA Center for Politics as a professor of practice. In that role, she will participate in University-wide lectures, serve as a guest lecturer in student seminars, contribute to Center for Politics research, and participate in other University and community events.
"Preserving our constitutional republic is the most important work of our time, and our nation's young people will play a crucial role in this effort. I look forward to working with students and colleagues at the Center to advance the important work they and others at the University of Virginia are doing to improve the health of democracy here and around the world," Cheney said.
The Cheney hire will no doubt rile up the anti-Woke forces on the UVA Board of Visitors, led by Bert Ellis, one of Gov. Glenn Youngkin's far-right appointees.
Especially with their main target, UVA President Jim Ryan, having nice things to say about Cheney.
"Our students will have an incredible opportunity to learn from Liz Cheney, who has fiercely defended democracy as part of a distinguished career. I'm delighted that she has chosen the University of Virginia and the Center for Politics as a next step, and I very much look forward to working with her," Ryan said.
Oh, yeah, she's going to be a target.
Whitt Clement, the BOV's rector, issued a boilerplate statement welcoming Cheney to Grounds on behalf of the board.
"The Board of Visitors, which endorsed a Statement on Free Expression and Free Inquiry in 2021, and the University of Virginia are committed to offering our students an array of diverse viewpoints, and Liz Cheney — a strong conservative who never hesitates to put honesty ahead of all other considerations — is a model of leadership not just for the students at the University of Virginia, but for all people concerned for the wellbeing of this country," Clement said.