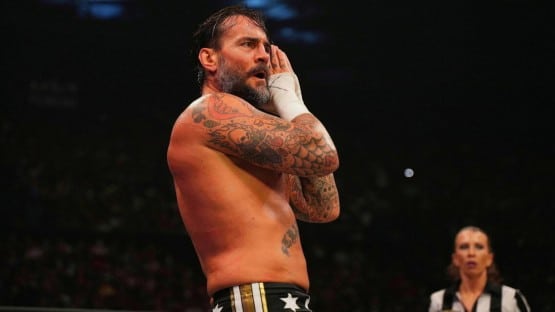 Tony Khan is working off the script that he wrote for himself heading into the launch of "Rampage," treating the status of AEW star CM Punk for the June 17 debut of "Collision" as a state secret.
"I have been a little intentionally secretive about where this is all going, and I think it's a good thing," Khan said on a media call last week, sidestepping questions on Punk and a rumored roster split.
AEW has been in a holding pattern all spring, with the company's focus on the rollout of "Collision" and the wildly successful Aug. 27 "All In" show at Wembley Stadium in London, which has already sold more than 68,000 tickets without a single match announced or even hinted at.
The status of Punk, who has been out since September with a torn triceps sustained in his AEW world title victory over Jon Moxley at "All Out," has been another point of focus.
Because of course, Punk isn't out just because of the torn triceps. After calling out several backstage critics at the post-"All Out" media scrum, Punk and AEW producer Ace Steel, a long-time Punk confidante, were confronted in the dressing room by Matt and Nick Jackson and Kenny Omega, fellow wrestlers who also happen to be AEW executive vice presidents.
What happened next is still the subject of mass speculation, but what has been said to have happened – an all-out (pardon the pun) brawl – led to the suspensions of all five.
The repercussions from the brawl extended beyond those immediately involved – Moxley, Chris Jericho, "Hangman" Adam Page and Dax Harwood all dragged themselves into the story after the fact – making this the defining storyline in the company, even as the TV storylines have largely ignored the real-life feud.
The absence of Punk has been noticeable in the ratings for "Dynamite" and "Rampage," which dropped off in the immediate aftermath of the "All Out" brawl and have been holding at those new lows for several months.
His pending return in two weeks should give the ratings – and the company's direction – a much-needed jolt moving forward.
Khan, who masterfully played the expected pending arrival of Punk into AEW in 2021 into a record rating for the second week of "Rampage," seems to be hoping that playing coy will serve to the benefit of the company with the rollout of "Collision" on June 17.
"I haven't given lengthy explanations yet for what I'm planning regarding the future of the roster and how people will be allocated across 'Dynamite' and 'Collision' and our other shows, and it's a great question," Khan said. "I think, certainly, I could see why wrestling fans all over the world would be interested in that and curious about that. And I think that's frankly, by design, that we want to build that curiosity and get people wondering exactly what you're asking, what's the future of the AEW roster and what does this all mean going forward after Double or Nothing? So, it's a really good question, and it's something we're going to be excited to follow up on."
Translation for that 116-word word salad: wait and see.