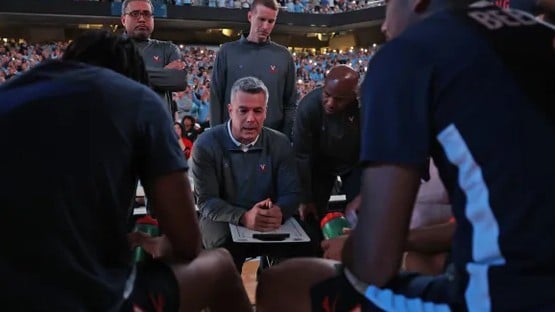 You'd be willing to give Tony Bennett a pass, you know, after his team lost its second straight, following two narrow wins over ACC bottom feeders, and really, it's been a rough month of February for his Virginia team.
Bennett, postgame, though, seemed to see something that the rest of us didn't, not right away, in Virginia's 71-63 loss to North Carolina on Saturday night.
"I told our guys, I appreciate it. I thought we fought like crazy in the second half," Bennett said.
And actually, yeah, after taking a step back, I'm thinking the same thing, that there was something in the form of a spark in the second half, relatively speaking, that shows things might be on the verge of turning around.
Virginia (21-6, 13-5 ACC) trailed 42-26 at the break, but quickly got the margin into single digits with good offense leading to good shots, and work on the defensive end.
Things blew up in the middle of the half when Virginia made one of its 16 shots over a 10 minute-plus stretch, but the Cavaliers, to their credit, didn't throw in the towel, and were able to get as close as six in the final minute.
That fight in the second half, even when the shots weren't falling, is what Bennett is trying to seize on, and build from, with his team needing to get itself back on track ahead of the NCAA Tournament.
"Played hard in the first half, but really fought in the second half, and touched on a level of tenacity on the defensive end, keeping them off the glass, keeping them out of transition, and, you know, limiting the quality looks, for the most part, that we needed to. And no one's trying to miss a layup or miss a free throw, but I thought we ran good, tough, hard offense and produced pretty much quality shots. But you know, it would have been good to play two halves quality like that, maybe it's different," Bennett said.
When you look at the box score, several things stand out to make you think, this one wasn't what it felt like as it was playing out.
Virginia held North Carolina, which averaged 11.7 offensive rebounds per game coming in, to just three offensive boards.
UNC didn't score a single fast-break point, and also didn't score a point off a turnover.
Virginia committed just four turnovers on the game; UNC committed 12, which led to eight Cavalier points.
And the 'Hoos outscored the Heels in the paint, 26-20.
How Carolina won this one: by making nine first-half threes (and 10 overall, on 22 attempts), and by defending the rim.
Virginia was just 10-of-28 on shots at the rim. North Carolina blocked eight Virginia shots, four each by Pete Nance and Leaky Black.
Nance, a 28.2 percent shooter from three coming in, had 22 points on 7-of-10 shooting, 4-of-4 from three.
Puff Johnson, a 27.8 percent shooter from three on the season, with a total of 10 makes before today, was 2-of-3 from long-range, his two makes coming on back-to-back first-half possessions that turned a six-point game into a 12-point UNC bulge, and set Virginia back on its heels.
North Carolina was shooting 29.9 percent from three coming into Saturday, and couldn't miss for 20 minutes.
"You can't take away the three, then the lane opens up, and (Armando) Bacot goes to work," said Bennett, which reminds me, quiet day for Bacot – 11 points on 4-of-6 shooting, six rebounds.
"I thought we were OK, except for a couple breakdowns, but we shored it up in the second half," Bennett said. "And, you know, again, all you can always do is make them make tough shots, and for the most part, there were a few of those, but a couple of times, it's going to happen, and you're not going to be flawless on the defensive end, but you just keep staying continuous, and that's why I liked our second half defensively. I think that's something we can build on."
The offense had its moments in the second half as well – the 6-of-7 start, the 6-of-10 finish.
And it's not like the offense wasn't getting good looks in between.
"Sometimes good defense by the opponent, good shot blocking, you know, and sometimes just, you get to this point, and it's just sometimes, it's concentration and, you know, a number of things, but we'll keep working on it," Bennett said. "Again, all you can do is work to get that shot. You continue to work on that stuff in practice and keep going and not get too discouraged about it. That's the thing, you know. As a young man, you know, that feeling, I missed a free throw, I missed a layup, now you just you keep battling, and that's what I'll encourage these guys to do."
The message from Bennett to his players: "just keep knocking."
"I told the guys, there's a lot of basketball left, playing obviously a good, tough team next, quick turnaround, but we'll get after it, and, you know, keep trying to find ways," Bennett said. "I keep hoping one of these days, we're gonna break out of that little shooting slump. It'll happen, but, um, I credit our guys for how hard they played. And I thought Carolina played in desperation mode, and they made some tough plays, and, you know, had some fortunate banks go in, but um, it's a quality team, and you can see that."